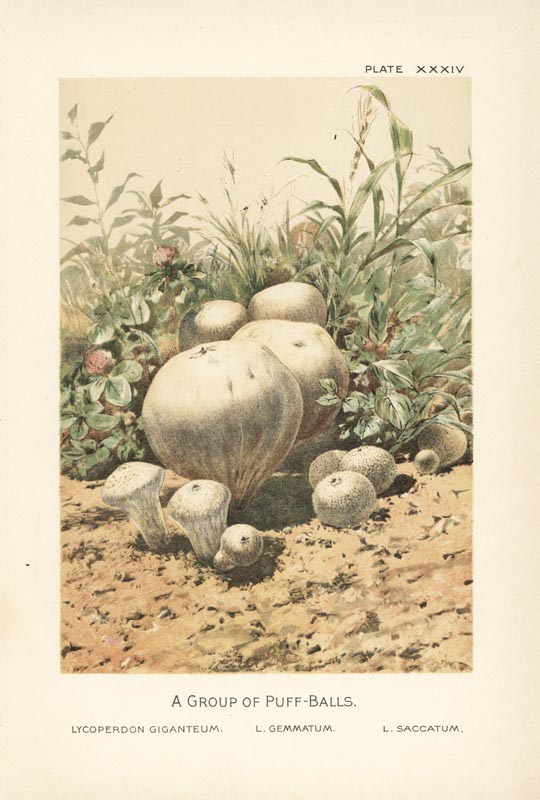 The visitation
Unbidden, the giant puffballs appeared overnight on the quad lawn.
Grass Out of Bounds to Pupils?
– the puffballs paid no heed.
Not Us, they said.
They arrived, without reference to anyone:
perfect giant meringues on an incongruous baize.
Their disregard for their surroundings was apparent:
such red-brick pillared portals were nothing to the ancient race of the Fungi.
For that morning they stood Untouchable,
beyond the reach of student boot-for the quad lawn was  not  to be trespassed upon.
Their presence a subversive autumnal delight
in that most serious of all terms, Michaelmas.
Defiant. Ludicrous. Delightful.
Giant puffballs: their ways are not our ways.
© Lucinda Moore, winning entry in the Unpublished Poet category, Lord Whisky Animal Sanctuary competition, 2020
Picture 12487691, illustration by William Hamilton Gibson, 1895, image copyright Mary Evans / Florilegius Collection
Lucinda Moore is an author and historian, based in Sussex. A graduate of classical archaeology and ancient history from Oxford University, Lucinda has more than a decade of archival research experience, and loves documenting the world around her with words and pictures. Her first publication was an illustrated history book, Animals in the Great War (Pen & Sword, 2017), and she won her first poetry prize in the 2020 Lord Whisky Animal Sanctuary competition.