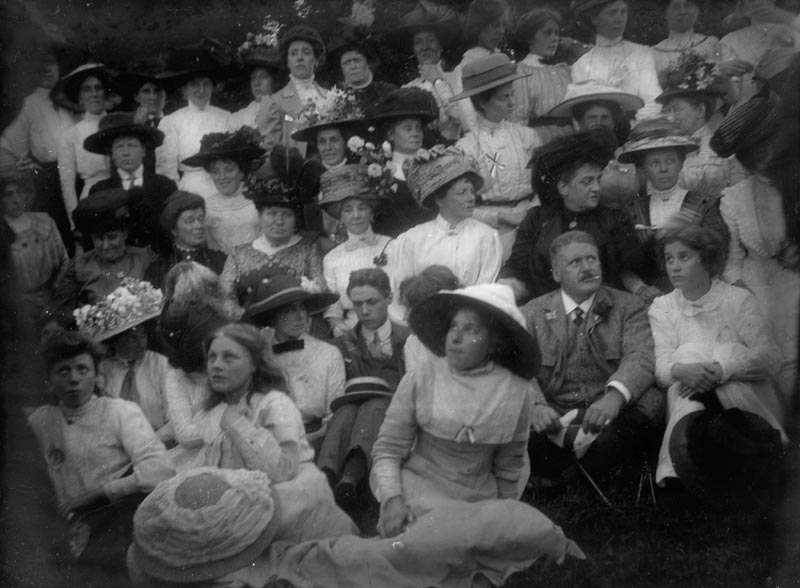 All on a Summer's Day
So much respectability!
The agony of stifled breath
caught in those pinching stays!
High Edwardian collars compounding
the heat of the summer day
the behatted ladies have come to enjoy –
ah, except perhaps the wistful girl
beside papa.  A fawn entrapped.
The occasion? A visit by a dignitary,
maybe a member of royalty,
justifying the exuberance of those hats.
Imagine the delicious gossip of the dames.
A young man, dutifully polite
is tightly hemmed, his boater
on his knees.  Poor chap!
His mind no doubt on flight
to anywhere but here.
© Eileen B Wiltcher
Picture 11941029, photograph on a lantern slide, early 1900s, image copyright Mary Evans / The Boswell Collection
Eileen B Wiltcher is a retired bookseller, who spent many years visiting schools in her local area, promoting children's authors, holding workshops and encouraging the love of reading. She has lived in the East Wickham district of south-east London for sixty years and was educated at Bexley Technical School for Girls. She has written for the Scooter and Three Wheeler magazine and reviewed for The Childrens' Book Trust. Poetry is her first love and she has been writing ever since school days. Her first book, A Spanner in the Works: Memoirs of an East End Girl, was published in 2017 by Rethink Press.