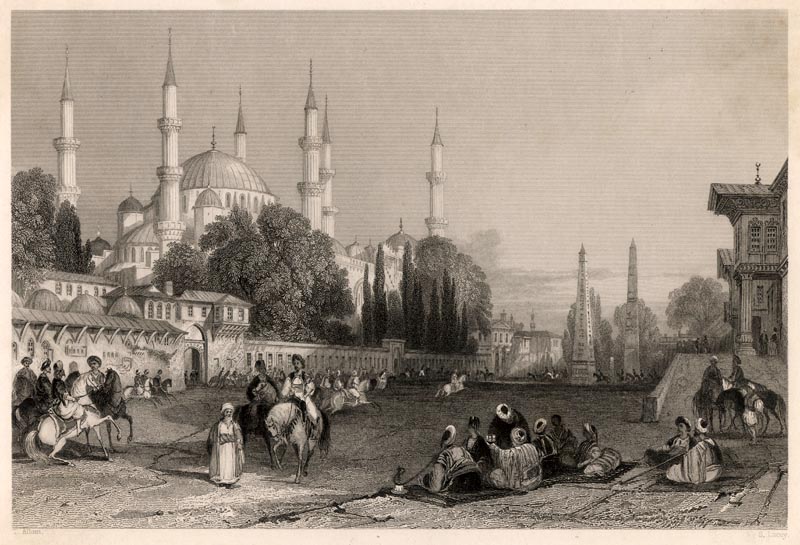 Conversation in Istanbul
Blue Mosque says to Aya Sofya:
I am perfect symmetry,
a dome and six minarets,
the reflection of your essence,
of what you should have been;
instead you are an accretion of changes,
of lost directions and marred design.
Aya Sofya says to Blue Mosque:
I am more beautiful in age than in youth,
the creation of time; what I lose
in purity of line, I gain in wisdom,
the sum of everything I have been.
When their eyes seek God on the skyline,
I am what the people see.
© Derek Sellen
Picture 10003736, engraving, 1838, image copyright Mary Evans
Derek Sellen's work has been published widely in magazines and anthologies and has received awards over many years. His collection The Other Guernica (Cultured Llama Publishing) was a finalist in the Poetry Book Award 2020. Recent successes include first prizes in the O'Bheal Five Words Competition 2020 and winning the Anthony Cronin International Poetry Award at the 2020 Wexford Literary Festival. He was Canterbury Festival Poet of the Year 2018. In 2021 he is judging the Segora International Poetry Competition. He wrote 'Conversation in Istanbul' after a fascinating few days in that wonderful city back in 2013.