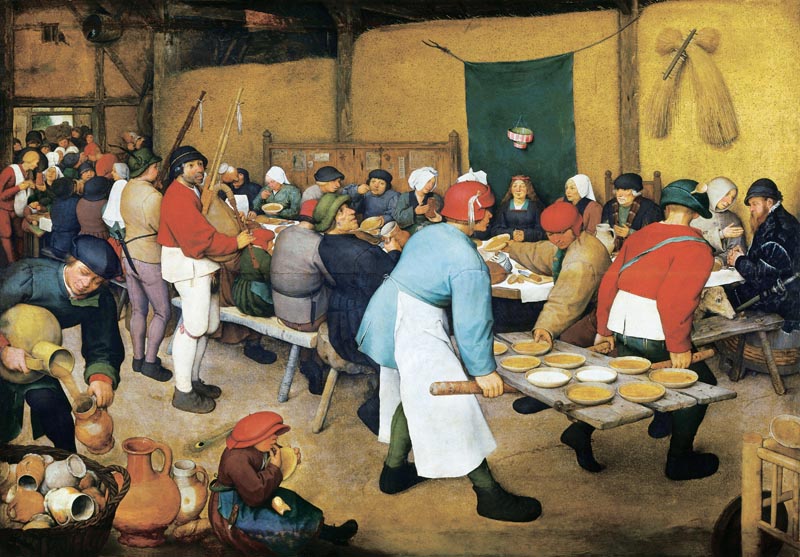 The Peasants' Wedding
Well, here's a feast – they keep coming –
I'm pushed to keep up.  There are lots
of pots so I'll keep pouring.  That's what they want.
The boys are playing.  She is happy
by herself – smiling in her world.
Little Dick has licked his plate quite clean
so sucks his finger now.
All these people – I don't know –
it's hard to tell when you're the host
but it looks as though it's going well.
The Old Man's gaze is far away –
Frans attends in his careful way.
Now this one's full let's get another.
They're still coming – they want more –
and more – that's it –
that's what feasting's all about.
© Richard Westcott
Picture 10208169, painting by Pieter Bruegel the Elder, 1568, image copyright Mary Evans / Iberfoto
Richard Westcott (once upon a time a doctor) has had poems pop up in all sorts of places, won a prize here and there, and been listed, commended and highly commended in various competitions (including the Hippocrates, York Mix, Camden Lumen, Plough, and Poetry on the Lake).  He won the Poetry Society's annual Stanza Competition in 2018, judged by Penelope Shuttle, with his poem 'A Traditional Cure'.  A pamphlet, There they live much longer, was published by Indigo Dreams in March 2018, and his blog is at www.richardwestcottspoetry.com