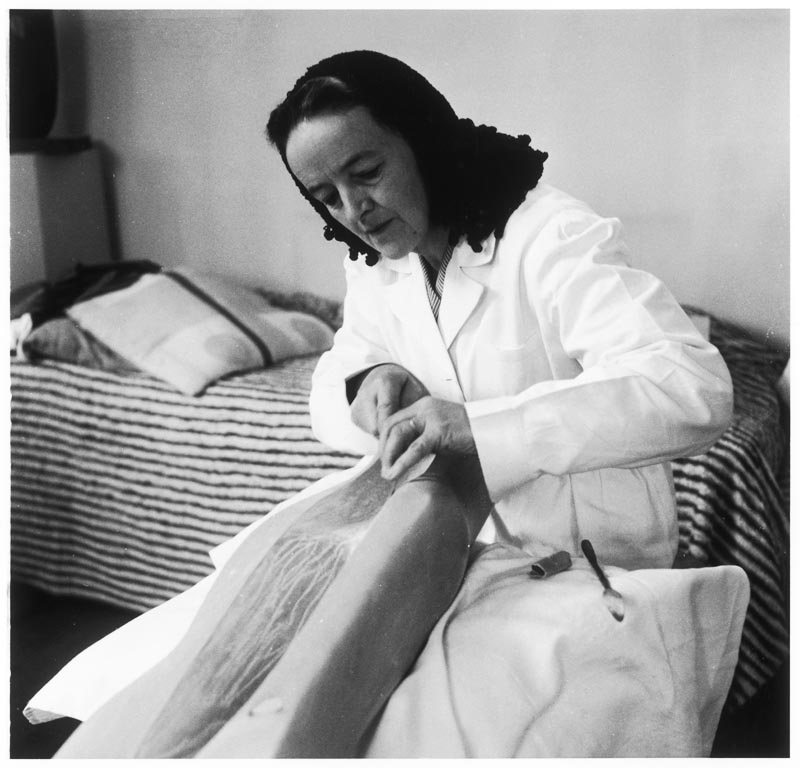 I Carve to the Beat of the Heart
after Barbara Hepworth
From her high window
an arc of blue
almost Aegean
where white gulls circle
and mew against
a canvas of Cornish light.
Below an oasis of shadows
palms and mirroring pools,
a garden
where sculptures grow like trees;
an ochre jacket, overalls stiff
with dust, still expectant
behind the greenhouse door
mallet, chisel, drill,
the paraphernalia of a mason's art
seem only momentarily set aside.
On her bench a block of stone
white, unhewn, waits
in perpetuity for her hands
In the silence
her heartbeat,
the punctured cry of gulls
© Sue Hubbard
Picture 10187117, photograph by Roger Mayne, 1953, image copyright Mary Evans / Roger Mayne
Sue Hubbard is an award-winning poet, novelist and freelance art critic, with an MA in Creative Writing from the University of East Anglia. She is twice winner of the London Writers Competition, with a third prize in the National Poetry Competition. Her publications include Everything Begins with the Skin (Enitharmon), Ghost Station, The Forgetting and Remembering of Air (Salt), and The Idea of Islands (Occasional Press). Swimming to Albania, her fourth collection, is due from Salmon Press, Ireland, in October 2021. Twenty of her poems were included in An Anthology: Carcanet 2000. Her poetry has been recorded for The Poetry Sound Archive, read on Poetry Please, The Verb and Front Row, and appeared in numerous magazines and anthologies, as well as in The Irish Times and The Observer. She has published a collection of short stories, Rothko's Red (Salt), and two novels, Depth of Field (Dewi Lewis) and Girl in White (Cinnamon Press), for which she received a major Arts Council Award. Her third novel, Rainsongs, was published in 2018 to great critical acclaim from The Guardian, The Irish Times, The Irish Independent and The Jewish Chronicle, among many others. It is also published by Overlook Press, US, Mercure de France and Yilin Press, China. As an art critic she has written regularly for The Independent, Time Out, The New Statesman and many leading art magazines. Her selected art writings, Adventures in Art, are published by Other Criteria. As The Poetry Society's only Public Art Poet, she was responsible for London's largest public art poem, 'Eurydice', in the IMAX tunnel at Waterloo, commissioned as part of the South Bank regeneration.