Warning
: include(topMenuBar.php): failed to open stream: No such file or directory in
/home/domains/maryevans.com/docs/poetryblog.php
on line
78
Warning
: include(): Failed opening 'topMenuBar.php' for inclusion (include_path='.:/usr/share/php') in
/home/domains/maryevans.com/docs/poetryblog.php
on line
78
Warning
: include(topFullWidth.php): failed to open stream: No such file or directory in
/home/domains/maryevans.com/docs/poetryblog.php
on line
79
Warning
: include(): Failed opening 'topFullWidth.php' for inclusion (include_path='.:/usr/share/php') in
/home/domains/maryevans.com/docs/poetryblog.php
on line
79
Warning
: include(poetrySideBar.php): failed to open stream: No such file or directory in
/home/domains/maryevans.com/docs/poetryblog.php
on line
81
Warning
: include(): Failed opening 'poetrySideBar.php' for inclusion (include_path='.:/usr/share/php') in
/home/domains/maryevans.com/docs/poetryblog.php
on line
81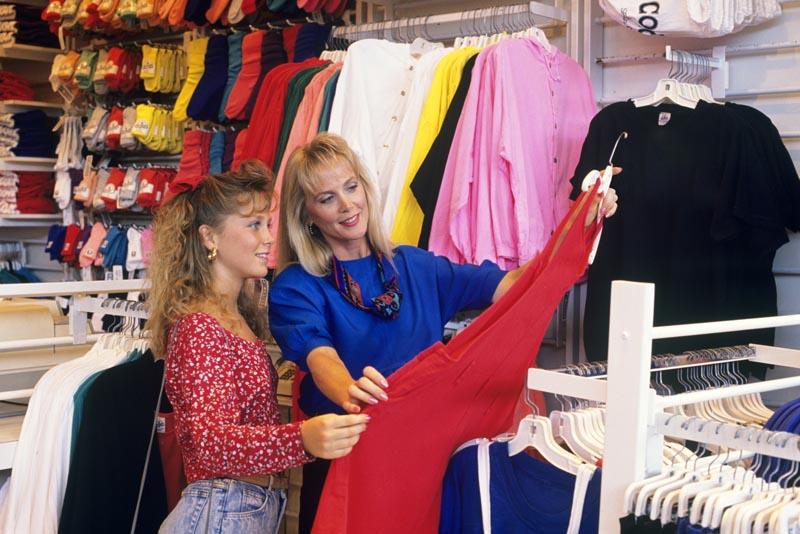 Working Women at TK Maxx
Ralph Lauren, DKNY, Calvin Klein
How much I'd lost my way to be
wandering the aisles at lunch-break,
unsure which direction to take,
racks of high-street brands for miles,
women's and men's, left and right
amid countless stands of handbags,
négligés, no window in sight.
She swept past like a cold current
in the sea over the whole body,
eyes lowered to the bargain in my hand,
its logo of two bones crossed,
Billabong, M, marl, men's underwear.
Her presence enlivened me
to ask who are we, our silence
saying we are only real elsewhere,
no longer human in this place
of stale air and artificial light,
no less superfluous than clothes
remaindered, and selling at half-price.
© Catherine Phil MacCarthy
Picture 13157593, photograph by J Nettis, 1990s, image copyright Mary Evans / Classic Stock
Catherine Phil MacCarthy has published five collections of poetry (and a novel), most recently Daughters of the House (2019) and The Invisible Threshold  (2012), both with Dedalus Press, Dublin. Her poems arise often from wonder and the quest to understand, explore the primal power of attachment and desire, and deliver experiences of what it is to be human. They observe our connection to the world around us, and the threatened natural environment. She received the Lawrence O'Shaughnessy Award for Poetry, and is a former editor of Poetry Ireland Review. She was born in Co. Limerick, and has lived in Dublin since 1987. www.catherinephilmaccarthy.com