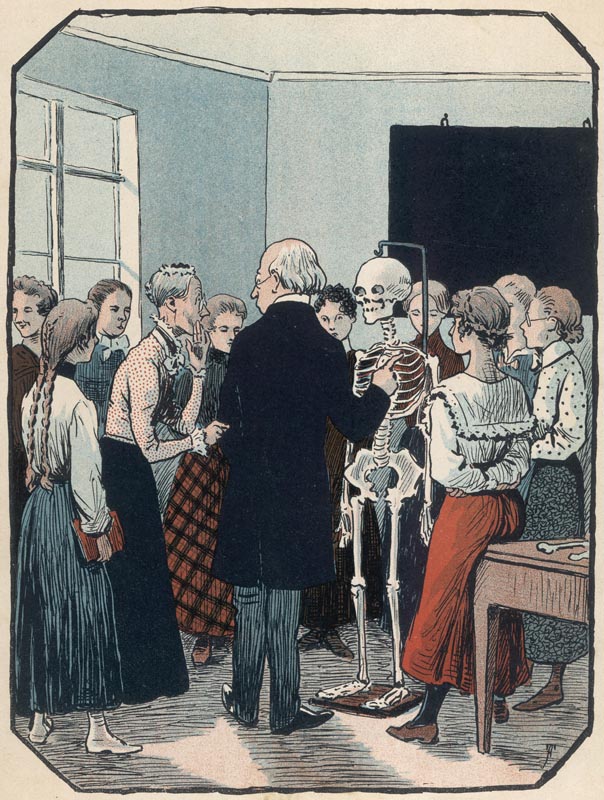 Anatomy for women
Will you teach us our bodies?
Not with those rock-hewn
words that get stuck in my throat,
not with those dead words that you
deemed too unseemly
to christen your parts.
I mean those names that escape
as breath when you run your hands
over a swell, a rise, a fall, a name
for the different softnesses of skin,
for the scent on a warm body after
sleep. Have you studied these things?
Or do we know them already, do you think?
Do we already know the plump syllables
our foremothers would have fed us
and how they animate
these flesh-covered bones?
© Jo Brandon
Picture 10034162, illustration by Axel Thiess in Klods Hans, 25 August 1901, image copyright Mary Evans
Jo Brandon was born in Essex in 1986 and is now based in West Yorkshire. Her working life has been varied, including roles as a domestic for the Royal Household, a tour guide, creative writing coordinator for prison arts charity the Koestler Trust and an arts administrator at the Poetry School and Poetry Society. She is currently writing a novel and working as a freelance poetry editor. Jo has a pamphlet, Phobia, and two full-length collections, The Learned Goose (2015) and Cures (2021), all with Valley Press. Jo's poetry has been published widely in magazines and anthologies including The North, Poetry Review, Butcher's Dog, Magma, Dream Catcher and Popshot. Jo recently collaborated with the composer Ella Jarman-Pinto on a libretto commissioned for International Women's Day 2021, which aired on BBC Radio 3's In Tune. Jo is a former editor of Cadaverine and was the Bradford Literature Festival's first Digital Poet in Residence. www.jobrandon.com