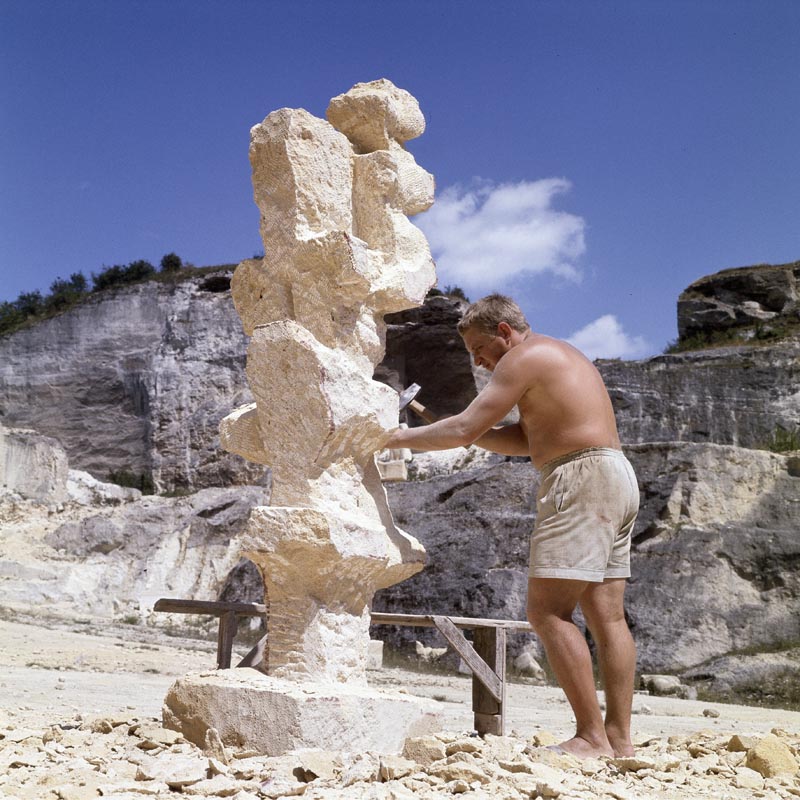 A Poet
A poet is a sculptor of words,
standing back to reappraise his
tender, newborn creation.
How it sits and scans ungainly
on the workbench before him
in the sharp light of morning,
unfurling the fug of midnight oil
to reveal its emerging structure
through natural faults and fissures.
Resolving a tricky conundrum,
he seizes chisel and mallet,
strikes another incisive blow,
lines shatter, words scatter.
He continues to whittle and worry
the small uneven surfaces,
until upon turning it begins
to give back something, a ghostly
impression of the creator's art,
multi-facets reflecting prevailing light
no matter where it's placed
or which audience put before,
trying to read the contours
of its raw and polished state,
surrendering the secrets of its
inherent form and mystery.
© David Bottomley
Picture 11669929, photograph, circa 1960, by Votava, image copyright Mary Evans / Imagno
David Bottomley is a London-based poet, playwright and librettist who works with theatre companies, filmmakers and composers. He was recently awarded second prize in the E.H.P. Barnard Poetry Prize 2021. He is currently collaborating with the American composer James Sproul on an orchestral song cycle and short form opera. During lockdown he worked with 50 creatives to interpret 50 poems on film for the Lockdown Poetry Film Festival. He performed in his one-man show, Message In A Bottle, at the 2012 Edinburgh Fringe Festival. The Peacock and the Nightingale was produced at the Tenth Avenue Theatre for the 2014 San Diego International Fringe Festival. Britain For Breakfast was a finalist in the Enter Stage Write Awards at the Birmingham Hippodrome in 2020. Two short plays, Insidious Seed and Changing Places, were brought to the screen by Nirak Films. Recent work includes an audio drama, The Bollinger Files, and his latest play, End of the Pier Show.