Warning
: include(topMenuBar.php): failed to open stream: No such file or directory in
/home/domains/maryevans.com/docs/poetryblog.php
on line
78
Warning
: include(): Failed opening 'topMenuBar.php' for inclusion (include_path='.:/usr/share/php') in
/home/domains/maryevans.com/docs/poetryblog.php
on line
78
Warning
: include(topFullWidth.php): failed to open stream: No such file or directory in
/home/domains/maryevans.com/docs/poetryblog.php
on line
79
Warning
: include(): Failed opening 'topFullWidth.php' for inclusion (include_path='.:/usr/share/php') in
/home/domains/maryevans.com/docs/poetryblog.php
on line
79
Warning
: include(poetrySideBar.php): failed to open stream: No such file or directory in
/home/domains/maryevans.com/docs/poetryblog.php
on line
81
Warning
: include(): Failed opening 'poetrySideBar.php' for inclusion (include_path='.:/usr/share/php') in
/home/domains/maryevans.com/docs/poetryblog.php
on line
81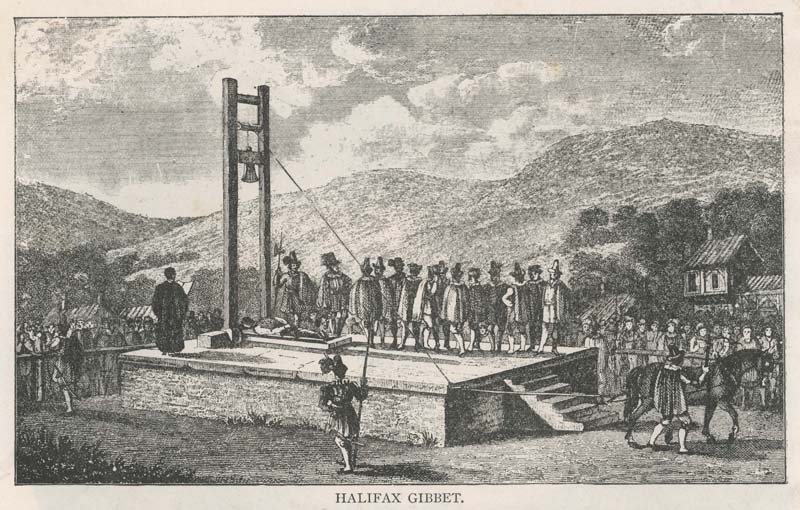 Halifax Gibbet
Nestled in the Pennine Hills,
Land of dark satanic mills,
From (Hell, Hull and) Halifax
Good Lord deliver us!
"Holy Hair" or "Holy Face",
Nothing holy about the place,
But high and mighty to be sure
For those who stole they had the cure!
"At Halifax, the Law so sharp doth deale,
That whoso more than 13 pence doth steale,
They have a jyn that wondrous quicke and well
Sends thieves all headless unto … Hell"
"The Gibbet" was a mean machine,
An early form of guillotine,
Lead blade unsharpened of such weight
Its weight alone'd decapitate!
A town with "Holy" in its name
Should have a greater claim to fame!
© Rowland Hill
Picture 10027929, reproduction of an engraving  by Wenceslaus Hollar, 1650, image copyright Mary Evans
Rowland Hill is a retired charity accountant. For many years he has written lyrical verse to celebrate birthdays, weddings, etc of family, colleagues and friends. Occasionally he has attempted to write more serious poetry, much more so since he began attending "Poetry with Friends" events run by Gail Curry and Elaine Cusack, and the Happy Planet Creative Arts of which they are Directors. He is very interested in the works of Ted Hughes. Recently published items can be found at rowlandpaulhill.wordpress.com