Warning
: include(topMenuBar.php): failed to open stream: No such file or directory in
/home/domains/maryevans.com/docs/poetryblog.php
on line
78
Warning
: include(): Failed opening 'topMenuBar.php' for inclusion (include_path='.:/usr/share/php') in
/home/domains/maryevans.com/docs/poetryblog.php
on line
78
Warning
: include(topFullWidth.php): failed to open stream: No such file or directory in
/home/domains/maryevans.com/docs/poetryblog.php
on line
79
Warning
: include(): Failed opening 'topFullWidth.php' for inclusion (include_path='.:/usr/share/php') in
/home/domains/maryevans.com/docs/poetryblog.php
on line
79
Warning
: include(poetrySideBar.php): failed to open stream: No such file or directory in
/home/domains/maryevans.com/docs/poetryblog.php
on line
81
Warning
: include(): Failed opening 'poetrySideBar.php' for inclusion (include_path='.:/usr/share/php') in
/home/domains/maryevans.com/docs/poetryblog.php
on line
81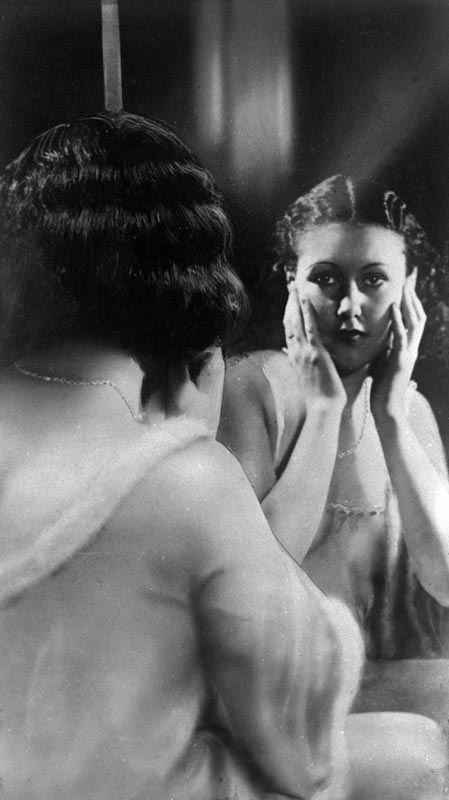 Dressing Table
My mother stored woollens
in the drawers,
hers gentian or olive,
his mustard, russet, brown.
A mahogany knob
replaced by one darker,
lacking the wood-swirls
of the rest.
Another remained loose
as if left like this on purpose.
I do not remember her
gazing in the mirror,
nor fixing her hair
with this antique brush.
On the embroidered tray-cloth
was her Yardley powder puff;
a leather-framed photograph
of us.
Just once, nearing the end,
we sat together on her bed.
How long will this go on?
Not long, I answered.  Oh, thank God.
Now the dressing table
holds my clothes,
and unless it's held crooked
the knob still comes away in my hand.
In one tiny drawer
is my mother's foundation,
tan dust compacted
in its navy case, shut tight.
© Shirley McClure
Picture 10164048, photograph, early 1930s, image copyright Mary Evans / Barnaby's Picture Library
Shirley McClure's first collection, Who's Counting?, was published by Bradshaw Books in 2010 and her second collection, Stone Dress, by Arlen House in 2015. Her poetry was widely published in literary journals and she won numerous awards, including Listowel Writers' Week Originals Poetry Competition 2014, the PENfro Poetry Competition 2015 and runner-up in the Patrick Kavanagh Award 2009. Shirley also taught creative writing with a particular interest in writing and health. After her untimely death from cancer in September 2016 her publisher, Alan Hayes of Arlen House, invited her friend Jane Clarke to edit a New & Collected Shirley McClure, including Shirley's two published collections, together with 31 beautifully poignant new poems (Origami Doll, Arlen House, May 2019).