Warning
: include(topMenuBar.php): failed to open stream: No such file or directory in
/home/domains/maryevans.com/docs/poetryblog.php
on line
78
Warning
: include(): Failed opening 'topMenuBar.php' for inclusion (include_path='.:/usr/share/php') in
/home/domains/maryevans.com/docs/poetryblog.php
on line
78
Warning
: include(topFullWidth.php): failed to open stream: No such file or directory in
/home/domains/maryevans.com/docs/poetryblog.php
on line
79
Warning
: include(): Failed opening 'topFullWidth.php' for inclusion (include_path='.:/usr/share/php') in
/home/domains/maryevans.com/docs/poetryblog.php
on line
79
Warning
: include(poetrySideBar.php): failed to open stream: No such file or directory in
/home/domains/maryevans.com/docs/poetryblog.php
on line
81
Warning
: include(): Failed opening 'poetrySideBar.php' for inclusion (include_path='.:/usr/share/php') in
/home/domains/maryevans.com/docs/poetryblog.php
on line
81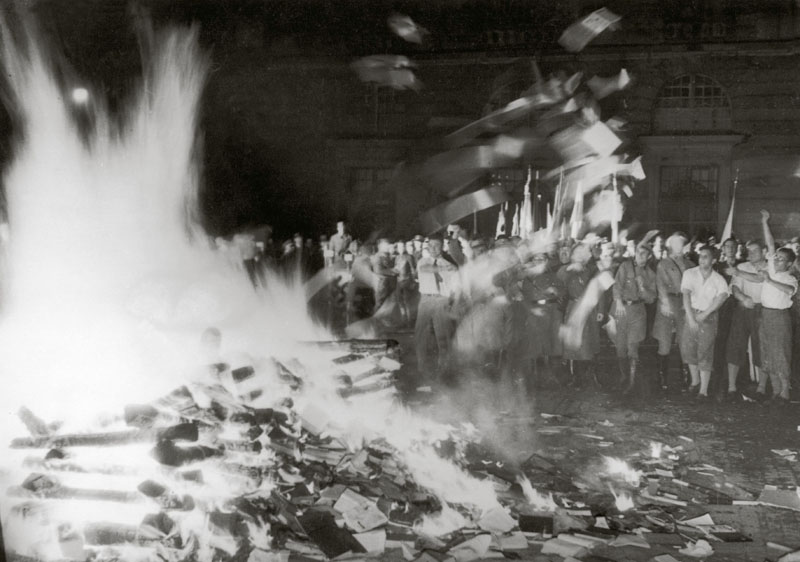 Burning the Books
Berlin May 10th 1933
The book opens one last time.
Pages darken in the light, to shrink
revealing the next. Beneath are many more
waiting their turn, as when they were read
in order. Of course, each has a number.
I watch from the margins when for a moment
tentative tongues playfully flicker
before contortion and final combustion.
After such a conflagration I had thought
the story finished. But there was left
a new formed negative with ghostly words
extra black on an ashen background.
Later, rain dispersed the saluting crowd,
all heat departed and an illiterate wind
perused and turned those pages, scattering
them far and wide across the Opernplatz.
© Richard Westcott
Picture 10246084, photograph, image copyright Mary Evans / Imagno
After hanging up his stethoscope a few years back, Richard Westcott now listens to himself talking, rather than others. Presently working on a sequence exploring Suicide, he seems to be better at getting a commendation here and there than being published, but keeps trying. And stays alive.