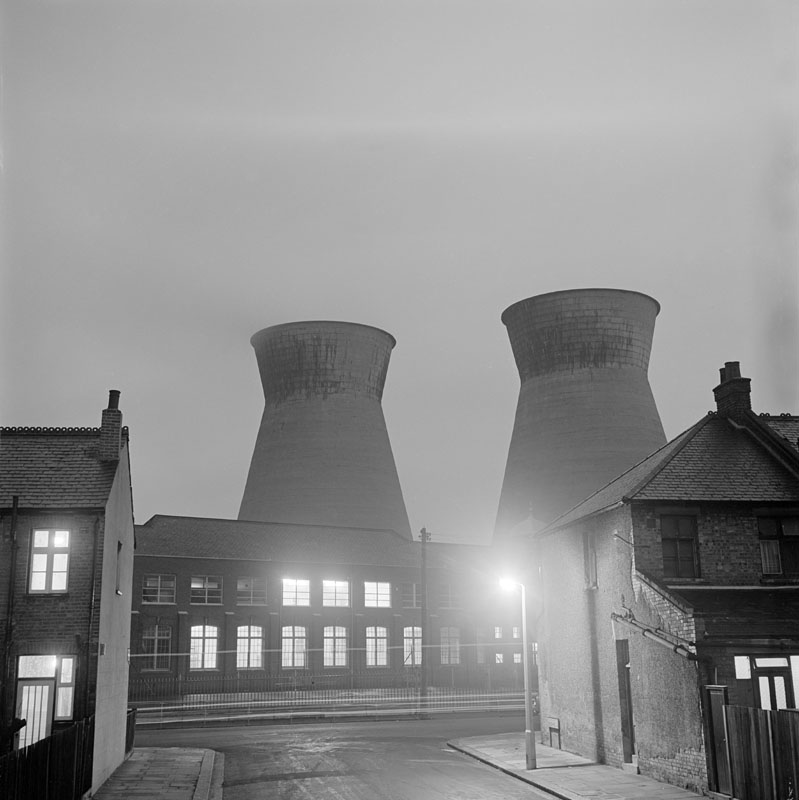 Church End Power Station
The two cooling towers are breasts that pour
their abundance into the night air. The supply
is everlasting. All round them their light prevails.
Even the streetlamp's lit by their juice that
flows out the gates, fifty yards along the road
and up the lamp-post.
Is the school lit up for cleaners or a parents'
evening at the street's dead end? Soon, they will
all cross the road to the lighted terrace where
in the house on the left a child's awake
in the bright bedroom, her parents in the
kitchen talking, drinking tea. In the house
on the right only the kitchen light is on
as if their ardent row would die with darkness.
Nothing will ever change, the camera
proclaims. This symmetry can never be
undone. We dream each night of such a
place as the neighbours leave, the lights
go out, the school's demolished.
© Stephen Devereux
Picture 10436196, photograph by John Gay, 1965, image copyright Mary Evans / Historic England Collection
Stephen Devereux writes poetry, plays, essays and short stories. He has had his work published in many magazines, journals and websites in the UK, Ireland, Germany, Austria, Australia and USA. He has won or been shortlisted in many competitions. He was born in rural Suffolk and worked on farms and in factories until going to UEA as a mature student. Since then he has taught in schools, colleges and universities in the North West. He lives in Liverpool.