Warning
: include(topMenuBar.php): failed to open stream: No such file or directory in
/home/domains/maryevans.com/docs/poetryblog.php
on line
78
Warning
: include(): Failed opening 'topMenuBar.php' for inclusion (include_path='.:/usr/share/php') in
/home/domains/maryevans.com/docs/poetryblog.php
on line
78
Warning
: include(topFullWidth.php): failed to open stream: No such file or directory in
/home/domains/maryevans.com/docs/poetryblog.php
on line
79
Warning
: include(): Failed opening 'topFullWidth.php' for inclusion (include_path='.:/usr/share/php') in
/home/domains/maryevans.com/docs/poetryblog.php
on line
79
Warning
: include(poetrySideBar.php): failed to open stream: No such file or directory in
/home/domains/maryevans.com/docs/poetryblog.php
on line
81
Warning
: include(): Failed opening 'poetrySideBar.php' for inclusion (include_path='.:/usr/share/php') in
/home/domains/maryevans.com/docs/poetryblog.php
on line
81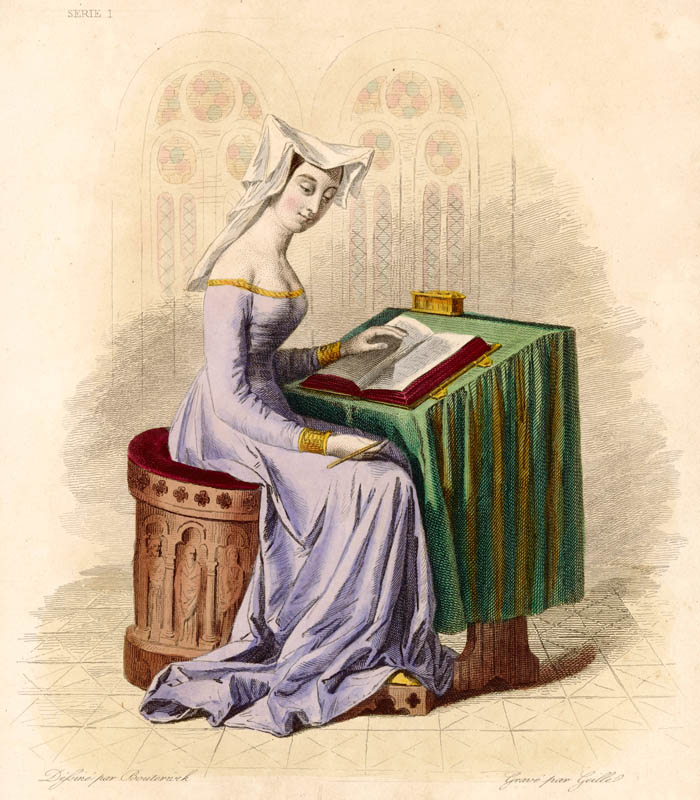 Letter to Christine de Pisan
Letter to Christine de Pisan (1365-1431?), Written During a Phase in Translating her Into English
Christine, Christine!
What did you mean?
What is this word
I've never heard
Before? And why
Oh why can't I
Find it, tiny
Shard of shiny
Verb in the book
Where I look?
Middle French
On the turn,
What a wrench
To try to learn
Your French, Christine!
Oh, what did you mean?
Wish I knew
Whether you
Had meant to say
It just this way;
Wish that you
Could send a few
Words to me
Just to see,
Smuggled out
Of the stout redoubt
Of the Count of Time
To say that I'm
Doing OK.
What do you say?
© Sarah Lawson
First published in Below the Surface, 1996
Picture 10038771, illustration by Bouterwek, image copyright Mary Evans
Sarah Lawson is a poet and translator. Born in Indianapolis in 1943, she has spent most of her adult life in London. Her poetry has appeared in numerous magazines and in her collections Below the Surface and All the Tea in China. She has published three poetry pamphlets with Hearing Eye: Down Where the Willow Is Washing Her Hair, Friends in the Country and Twelve Scenes of Malta and a collection of haiku, The Wisteria's Children. In prose she has published A Fado for my Mother, and a memoir about Poland, The Ripple Effect. She has translated works from French, Spanish and Dutch, and is probably the only person to have translated both Christine de Pisan and Jacques Prévert. Her latest translation from French is the story of a Bengali girl who refused to get married at the age of 11, The Strength to Say No by Rekha Kalindi.