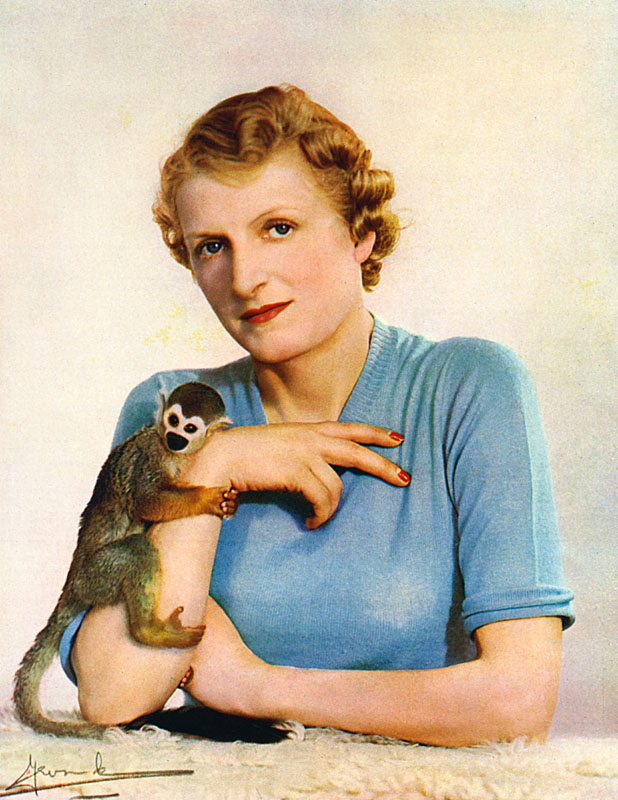 In the Studio of Madame Yevonde
This is the way my hair is curled
like a golden crown, I've the neck
of a queen, a bosom of lilies afloat
a technicolour pond. This is the way
I rest my elbow on the skin of a gazelle
shot in Kenya myself. This is how I fan
my cards to always win, Gin Rummy
a great leveller. Now this is how I swim
the Channel, in satin, apricot-skinned,
pores invisible. This is the way I paint my nails
murder-red, a robin aperch my delicate arm.
This is the time I laughed so hard I fell
backwards through plate-glass, shards
all over my frock, the ice-fairy look. Do try
a lychee the way I do, with a stab of the lips.
This is the way to wear Eau de Nil and oh
my Dear, Eau de Cologne is good to swig
when things look low. The only bracelet
for me is a living monkey, one I captured
in Ceylon, look how his grip brings beads
of blood to my wrist and still I smile. Darling
hate is a strong word but this is the way
I shape my fingers into a pistol, take aim
at your unkempt hair, your bitten nails,
mouth bang bang at the bullseye
of your foolish bleeding heart.

© Anna Kisby, 2016
Picture 10643614, photograph by Madame Yevonde, 1939
Anna Kisby is a Devon-based poet. Her poetry has appeared in magazines including Magma, Mslexia and Poetry News, in various anthologies including the Emma Press anthology Campaign in Poetry, and in the ekphrastic art/poem pamphlet Book of Sand. She is one of the poets commissioned to respond to the British Library's Alice in Wonderland exhibition for their Alice-themed poetry anthology, and was commended in the Faber New Poets Scheme 2016.