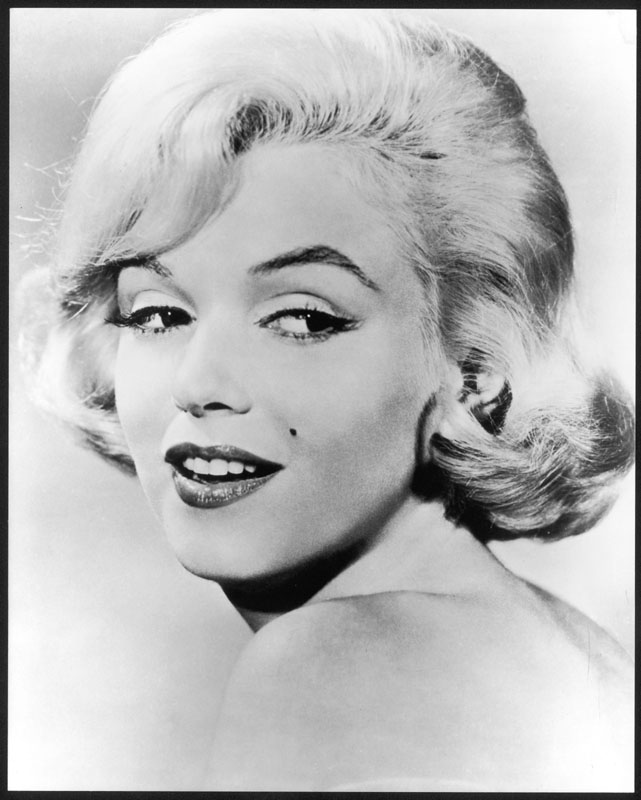 When a sex symbol takes to sensible shoes
Suddenly across the store, through a middle aged
bottle glass blur, I spot blonde hair familiar as a logo,
but hesitate unable to make out that fantasy body
drawn by an adolescent boy on his exercise book.
Close up, these photographs from the 'Misfits'
are like meeting an old friend after a debilitating illness.
Trademark eyeliner has become heavy shutters closing
on the empty windows of a house whose occupant has left.
Her body still forms a perfect 8 but is not gift wrapped
in gold lame instead she is a hillbilly's wife in white cotton
Sunday dress posing in a Steinbeck farm yard.
Looking down the barrel of the camera,
lips no longer part in the throes of an orgasmic O,
but are forced into a localised smile.
The confection of a single 1950s picture
draws my eyes like wasps to a baker's window,
leaving me craving other heyday poses, addictive as sugar.
Paying my last respects to the snapshots from her final film,
I notice, more shocking than being shared around
like a joint by the Kennedy boys' club, her comfortable shoes.
© Fiona Sinclair
Picture 10089006, unattributed photograph, circa late 1950s, image copyright Mary Evans
Fiona Sinclair's work has appeared in numerous publications. Her first published pamphlet was Dirty Linen (2010, Koo Press, Scotland). Two pamphlets followed this: A Game of Hide and Seek (2012) and Wonderland (2013), both with Indigo Dreams Press. Her first full collection is Ladies Who Lunch (2014, Lapwing Publications, Belfast). She is the editor of the online poetry magazine Message in a Bottle.