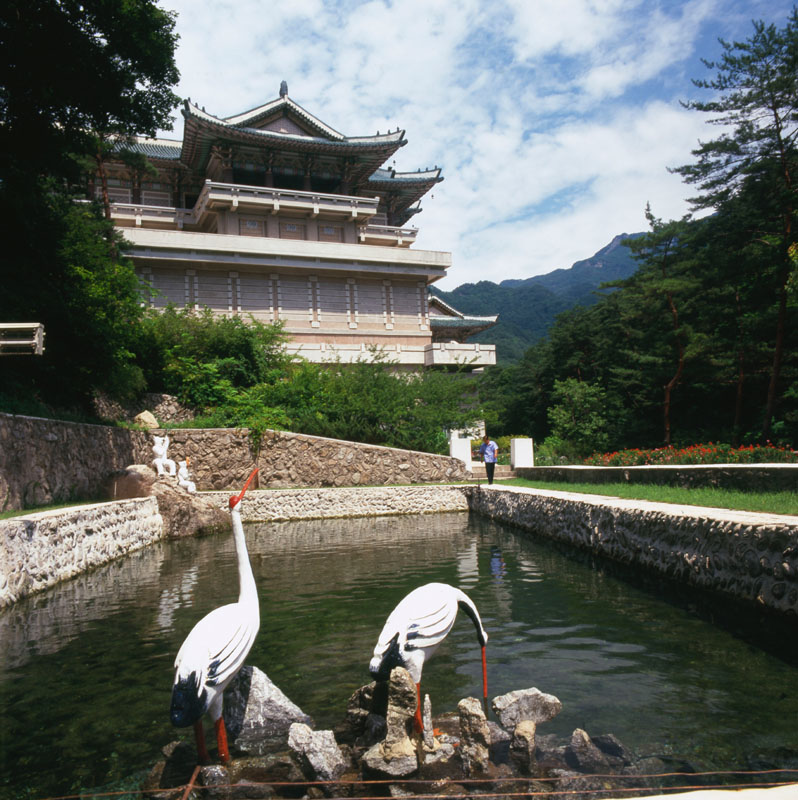 The International Friendship Museum, North Korea
Other things will happen
on days other than this.
Today seems to be sky, always in passing,
shadows which are stationary,
two cranes in a pool.
Mid-afternoon enacts itself over and over.
Nobody enters or leaves the pavilion
Through real doors or its imaginary windows.
I imagine
entering, bowing as required to father and son,
removing my shoes. I want to learn
about friendship. Incandescently-lit rooms
the size of railway stations open then repeat
as I walk through glass reflections of my shape,
slippery as water. Everything else is solid:
that bear's head on a satin cushion, Stalin's
bullet-proof limo, a rubberised ashtray.
Every prize sets up its one-sided conversation,
what might their exchanges be across the seas?
Who is hostage for this alligator, stuffed and smiling,
offering cocktails for a party that never started?
Other things will happen. I'll forget the photograph's
unreadable script which says : Own only what you use,
everything else, moth and rust, will return to haunt your children.
© Pippa Little
Picture 10413635, photograph by Hubertus Kanus, circa 2000, image copyright Mary Evans / Hubertus Kanus Collection
Pippa Little is a Royal Literary Fund Fellow at Newcastle University. Overwintering came out from OxfordPoets/Carcanet in 2012, and Twist is forthcoming from Arc. A chapbook of poems about Mexico, Our Lady of Iguanas, has just been published by The Black Light Engine Room Press. Her work appears widely in magazines and anthologies. She lives in Northumberland with her husband, youngest son and elderly Labrador.