Warning
: include(topMenuBar.php): failed to open stream: No such file or directory in
/home/domains/maryevans.com/docs/poetryblog.php
on line
78
Warning
: include(): Failed opening 'topMenuBar.php' for inclusion (include_path='.:/usr/share/php') in
/home/domains/maryevans.com/docs/poetryblog.php
on line
78
Warning
: include(topFullWidth.php): failed to open stream: No such file or directory in
/home/domains/maryevans.com/docs/poetryblog.php
on line
79
Warning
: include(): Failed opening 'topFullWidth.php' for inclusion (include_path='.:/usr/share/php') in
/home/domains/maryevans.com/docs/poetryblog.php
on line
79
Warning
: include(poetrySideBar.php): failed to open stream: No such file or directory in
/home/domains/maryevans.com/docs/poetryblog.php
on line
81
Warning
: include(): Failed opening 'poetrySideBar.php' for inclusion (include_path='.:/usr/share/php') in
/home/domains/maryevans.com/docs/poetryblog.php
on line
81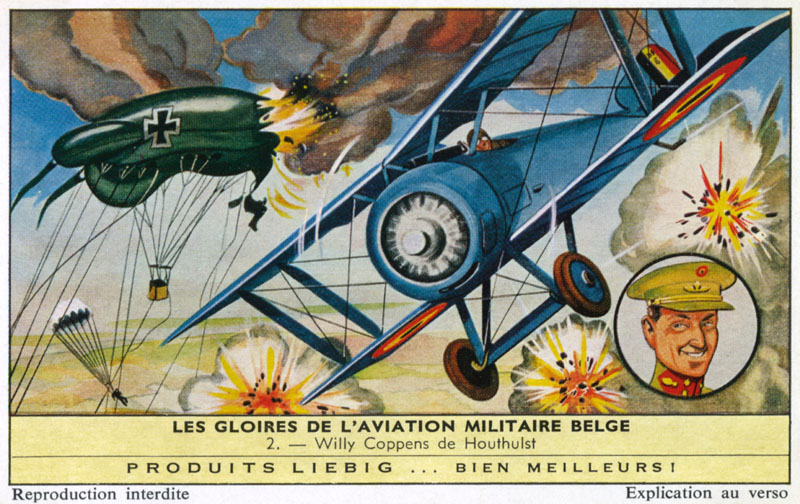 Les Gloires de l'Aviation Militaire Belge
Willy grins, safe in his bubble
while all around the clouds explode
as if all this were nothing at all
to do with him. Improbably
a grey balloon deflates in flames –
Bien Meilleurs! The sky is full
of drama. Thirty-five of them
I read – that's quite a bag –
no wonder he is smiling!
His biplane banks, the pram wheels spin –
he's off to find another.
Reproduction interdite – you must not try
to do this too but should you
wish to find out more, just look behind –
explication au verso.
© Richard Westcott
Picture 10194467, Liebig card, circa 1916, image copyright Mary Evans
After hanging up his stethoscope a few years back, Richard Westcott now listens to himself talking, rather than others. Presently working on a sequence exploring Suicide, he seems to be better at getting a commendation here and there than being published, but keeps trying. And stays alive.