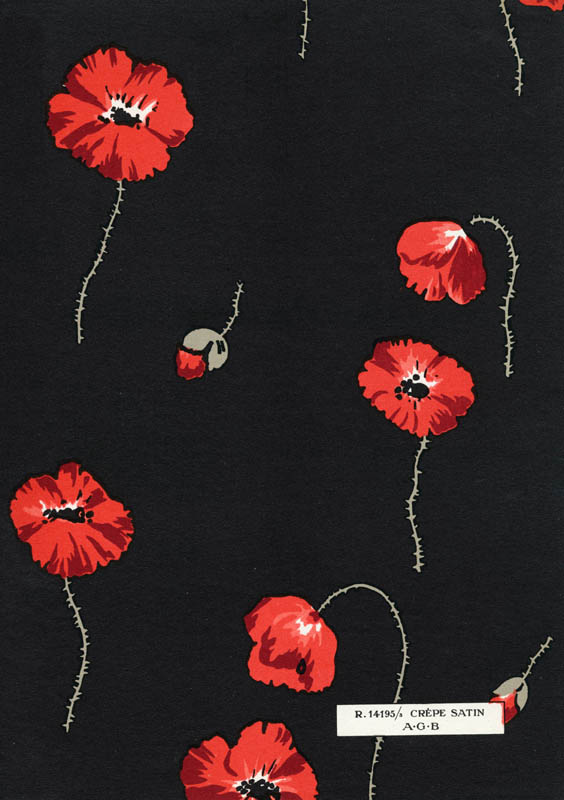 Wild Poppies
And how do you survive? Your long-throat,
your red-rag-to-a-bull head?
You rise heavy in the night, stars drinking
from your poppy neck.
Your henna silks serenade me
under the breadth of the Pyrenees.
You move like an opera,
open like sea anemones.
You are earth's first blood.
How the birds love you.
I envy your lipstick dress.
You are urgent as airmail, animal red,
Ash Wednesday crosses tattooed on your head.
Your butterfly breath
releases your scents, your secrets,
bees blackening your mouth
as your dirty red laundry
all hangs out.
© Marion McCready, first published in Poetry (Chicago)
Picture 10587977, fabric design, 1929, image copyright Mary Evans
Marion McCready lives in Argyll, Scotland. Her poems have been published widely including in Poetry, Edinburgh Review, The Glasgow Herald and Be The First To Like This: New Scottish Poetry (Vagabond Voices, 2014). Her poetry pamphlet collection, Vintage Sea, was published by Calder Wood Press (2011). She won a Scottish Book Trust New Writers Award in 2013 and won the Melita Hume Poetry Prize (2013). Her first full-length collection, Tree Language, was published by Eyewear Publishing (2014). She has a sequence of poems titled 'The Birth Garden' in Our Real Red Selves, a poetry anthology published by Vagabond Voices (2015). Her next collection, Madame Ecosse, is due to be published in September 2016 by Eyewear Publishing.