Warning
: include(topMenuBar.php): failed to open stream: No such file or directory in
/home/domains/maryevans.com/docs/poetryblog.php
on line
78
Warning
: include(): Failed opening 'topMenuBar.php' for inclusion (include_path='.:/usr/share/php') in
/home/domains/maryevans.com/docs/poetryblog.php
on line
78
Warning
: include(topFullWidth.php): failed to open stream: No such file or directory in
/home/domains/maryevans.com/docs/poetryblog.php
on line
79
Warning
: include(): Failed opening 'topFullWidth.php' for inclusion (include_path='.:/usr/share/php') in
/home/domains/maryevans.com/docs/poetryblog.php
on line
79
Warning
: include(poetrySideBar.php): failed to open stream: No such file or directory in
/home/domains/maryevans.com/docs/poetryblog.php
on line
81
Warning
: include(): Failed opening 'poetrySideBar.php' for inclusion (include_path='.:/usr/share/php') in
/home/domains/maryevans.com/docs/poetryblog.php
on line
81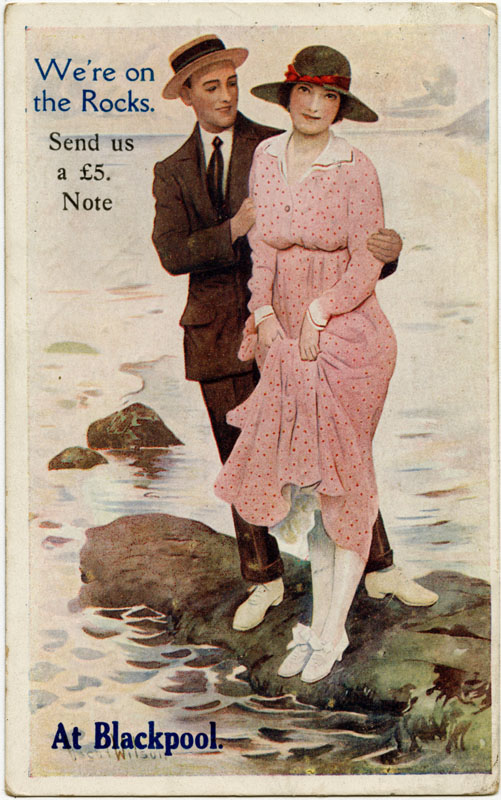 Trust
You suggest a walk beside a bad tempered Aegean.
Heads down we dive like bride and groom
under showers of pebble confetti.
Where the promenade is impassable,
you wait for the sea to draw its breath,
pitched by our own propulsion
we over shoot the walkway onto rocks.
Your flip-flop feet find the path with Sherpa instincts,
clasping my hand, Place your foot here, steady yourself there
I climb as if 10 again, sandals gripping rocks ,
free hand grabbing grass clumps like a pony's mane.
You step across the two foot abyss. Aim for this bit.
Catching me as I skip over the spitting sea,
You put a lot of faith in me don't you?
Yes I do, still giggling at the topless sun bather
we had just crashed,
I hope I don't let you down.
© Fiona Sinclair
Picture 10025688, postcard, 1922, image copyright Mary Evans
Fiona Sinclair's work has appeared in numerous publications. Her first published pamphlet was Dirty Linen (2010, Koo Press, Scotland). Two pamphlets followed this: A Game of Hide and Seek (2012) and Wonderland (2013), both with Indigo Dreams Press. Her first full collection is Ladies Who Lunch (2014, Lapwing Publications, Belfast). She is the editor of the online poetry magazine Message in a Bottle.