Warning
: include(topMenuBar.php): failed to open stream: No such file or directory in
/home/domains/maryevans.com/docs/poetryblog.php
on line
78
Warning
: include(): Failed opening 'topMenuBar.php' for inclusion (include_path='.:/usr/share/php') in
/home/domains/maryevans.com/docs/poetryblog.php
on line
78
Warning
: include(topFullWidth.php): failed to open stream: No such file or directory in
/home/domains/maryevans.com/docs/poetryblog.php
on line
79
Warning
: include(): Failed opening 'topFullWidth.php' for inclusion (include_path='.:/usr/share/php') in
/home/domains/maryevans.com/docs/poetryblog.php
on line
79
Warning
: include(poetrySideBar.php): failed to open stream: No such file or directory in
/home/domains/maryevans.com/docs/poetryblog.php
on line
81
Warning
: include(): Failed opening 'poetrySideBar.php' for inclusion (include_path='.:/usr/share/php') in
/home/domains/maryevans.com/docs/poetryblog.php
on line
81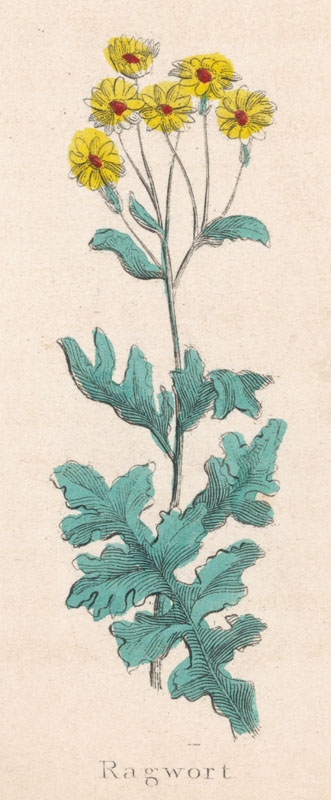 Ragwort
You may call me what you like  –
stinking willy, mare's fart, cankerwort –
but I am no smelly mongrel:
I am St James's flower
with my thirteen petals and my golden heart.
My stems are smooth and hairless,
a climbing frame for bronze caterpillars;
the Cinnabar and the Knot Horn are my moths.
Touch me and I will sting you;
yank me and I will have the stronger grip.
Yes, I am noxious, an 'injurious weed',
not easily broken. I seize acres.
I poison horses and cattle that crop me.
Fumble at my roots in heavy duty gloves,
lever me out with spades, burn me. As you like.
My seeds lie deep and wide
beyond the reach of control orders.
I am a tough foe. I hold my piece of earth.
© Derek Sellen
Picture 10040876, illustration from Culpeper's The Complete Herbal, image copyright Mary Evans
Derek Sellen's work has been published widely and received awards over many years. He won the Five Words Poetry Competition in 2015 and Hungry Hill Poets Meet Politics in 2014. Other recent successes include first prize in the Wirral Festival Drama Competition and being shortlisted in various 2015/2016 poetry competitions. He has written on a wide range of subjects including Spanish painters, Korean musicians and Indian cave-paintings. He lives in Canterbury, Kent, and is an active member of SaveAs Writers.