Warning
: include(topMenuBar.php): failed to open stream: No such file or directory in
/home/domains/maryevans.com/docs/poetryblog.php
on line
78
Warning
: include(): Failed opening 'topMenuBar.php' for inclusion (include_path='.:/usr/share/php') in
/home/domains/maryevans.com/docs/poetryblog.php
on line
78
Warning
: include(topFullWidth.php): failed to open stream: No such file or directory in
/home/domains/maryevans.com/docs/poetryblog.php
on line
79
Warning
: include(): Failed opening 'topFullWidth.php' for inclusion (include_path='.:/usr/share/php') in
/home/domains/maryevans.com/docs/poetryblog.php
on line
79
Warning
: include(poetrySideBar.php): failed to open stream: No such file or directory in
/home/domains/maryevans.com/docs/poetryblog.php
on line
81
Warning
: include(): Failed opening 'poetrySideBar.php' for inclusion (include_path='.:/usr/share/php') in
/home/domains/maryevans.com/docs/poetryblog.php
on line
81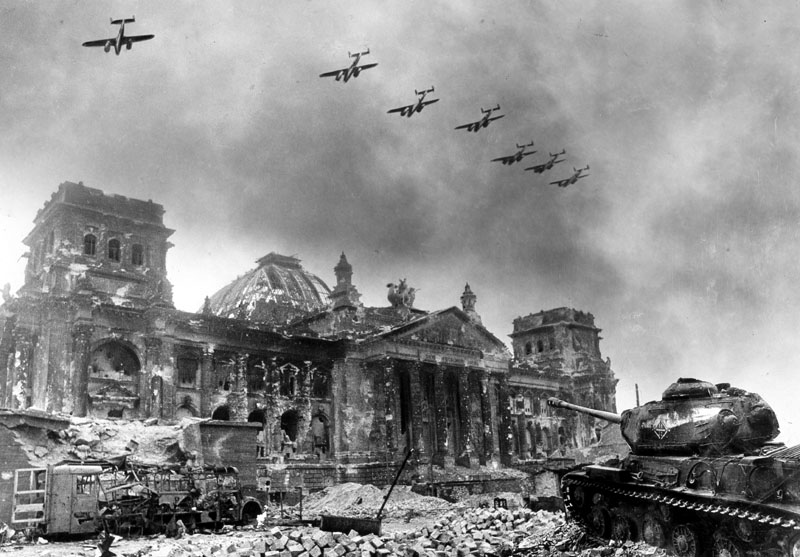 Auntie Pat
Auntie Pat, archetypal warchild.
Came out fighting,
never really stopping;
bobbing and weaving.
Never retreating
while the bombs were dropping.
Born under a swastika sky,
alive with fascistic fury.
Clenched fists would never wander far
for the woman who spat fire
at enemies within.
A nurse and a mother,
but all the time fighting,
igniting at the slightest hint.
The glint in her eye would light
and the pyrotechnical pilot
would be called to arms.
No battle too much
for the woman with the touch
of a flame thrower.
© Harry Gallagher
Picture 10646522, photograph by Yevgeny Khaldei, April 1945, image copyright Mary Evans / DPA Picture Alliance
Harry Gallagher lives and writes on the North East coast. His work has been widely published by, among others: The Stare's Nest, Black Light Engine Room, Lucifer Press, Rebel Poetry, The Fat Damsel, Material, Alliterati, Dead Snakes, Write Minds and Clear Poetry. His third pamphlet, Chasing The Sunset, was launched in January 2016 by Black Light Engine Room Press and he is currently finalising a full collection for 2017. He is co-founder of The Stanza, a monthly poetry night in Newcastle upon Tyne, and also performs regularly throughout the UK. For further information this is his website: www.harrygallagherpoet.wordpress.com.