Warning
: include(topMenuBar.php): failed to open stream: No such file or directory in
/home/domains/maryevans.com/docs/poetryblog.php
on line
78
Warning
: include(): Failed opening 'topMenuBar.php' for inclusion (include_path='.:/usr/share/php') in
/home/domains/maryevans.com/docs/poetryblog.php
on line
78
Warning
: include(topFullWidth.php): failed to open stream: No such file or directory in
/home/domains/maryevans.com/docs/poetryblog.php
on line
79
Warning
: include(): Failed opening 'topFullWidth.php' for inclusion (include_path='.:/usr/share/php') in
/home/domains/maryevans.com/docs/poetryblog.php
on line
79
Warning
: include(poetrySideBar.php): failed to open stream: No such file or directory in
/home/domains/maryevans.com/docs/poetryblog.php
on line
81
Warning
: include(): Failed opening 'poetrySideBar.php' for inclusion (include_path='.:/usr/share/php') in
/home/domains/maryevans.com/docs/poetryblog.php
on line
81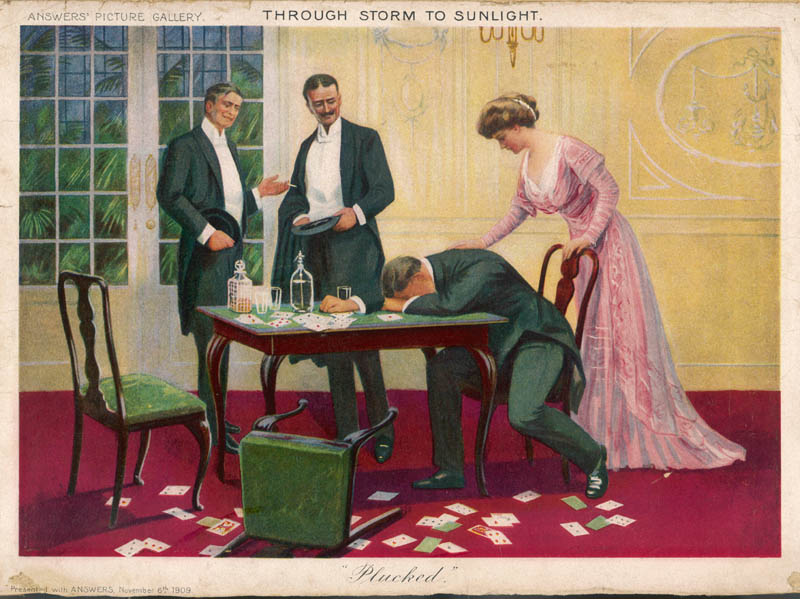 Stick or twist
I've got the scent of something new
but not sure what I ought to do.
Chance to seize, or to be missed?
Is it time to stick or twist?
My natural instinct's just to do it,
I rarely ever doubt or rue it.
It's not like me not to persist
but is it time to stick, or twist?
There's lots of merit in this notion
and risk diminishes with motion …
perhaps I ought to make a list?
It might be time to stick – or twist?
Something's bound to tip the scales
to keep me off, or on, the rails.
I'll shut my eyes and call the trick.
I think it's time to twist.  Or stick?
© Di Slaney
Picture 10080216, illustration for Answers Picture Gallery, 1909, image copyright Mary Evans
Di Slaney lives on a Nottinghamshire smallholding with more animals than is sensible.  She has a degree in English and European Literature from the University of Warwick, an MA in Creative Writing from Nottingham Trent University and was co-owner of Candlestick Press from 2010, taking sole ownership of the press in June 2016. She founded marketing agency Diversity in Nottingham in 1999.  Her poems have been anthologised and published in various magazines including Magma, The Rialto, The Interpreter's House, Brittle Star, LeftLion and Lighten Up Online, as well as being shortlisted for the Plough Prize and the Bridport Prize.  Two of her poems won joint first prize in the 2014 Brittle Star Poetry Competition and she won the Four Corners International Poetry Competition in 2015.  Di's debut pamphlet collection Dad's Slideshow is available from Stonewood Press and her first full collection Reward for Winter is published by Valley Press.