Warning
: include(topMenuBar.php): failed to open stream: No such file or directory in
/home/domains/maryevans.com/docs/poetryblog.php
on line
78
Warning
: include(): Failed opening 'topMenuBar.php' for inclusion (include_path='.:/usr/share/php') in
/home/domains/maryevans.com/docs/poetryblog.php
on line
78
Warning
: include(topFullWidth.php): failed to open stream: No such file or directory in
/home/domains/maryevans.com/docs/poetryblog.php
on line
79
Warning
: include(): Failed opening 'topFullWidth.php' for inclusion (include_path='.:/usr/share/php') in
/home/domains/maryevans.com/docs/poetryblog.php
on line
79
Warning
: include(poetrySideBar.php): failed to open stream: No such file or directory in
/home/domains/maryevans.com/docs/poetryblog.php
on line
81
Warning
: include(): Failed opening 'poetrySideBar.php' for inclusion (include_path='.:/usr/share/php') in
/home/domains/maryevans.com/docs/poetryblog.php
on line
81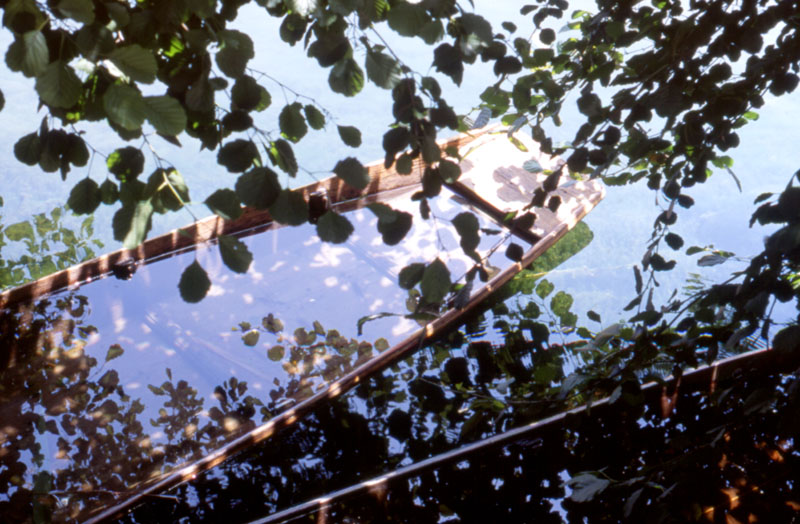 Upstream
Drifting upstream at roughly walking pace,
the blue boat half-submerged keeps up
as if it's a soul drowning as it comes.
There is no leash to hold it to its course;
this plain boat seems to know what
it's about, which is more than I do,
mostly. Though, just last week, a kingfisher
flying low suddenly ripped my heart
in the same place— so full of joy,
there were no words, just an old loosening.
© Janet Sutherland
Picture 10296102, unattributed photograph, 2005, image copyright Mary Evans / Vanessa Wagstaff Collection
Janet Sutherland was born in Wiltshire and grew up on a dairy farm. She has an MA in American Poetry from the University of Essex. Bone Monkey (April 2014) is her third full length collection. Her poems are widely anthologised: from The Virago Book of Love Poetry and The New British Poetry 1968-88 (Paladin) to The Apple Anthology, Nine Arches Press 2013. Her essay 'Reznikoff and his Sources' appeared as an afterword to the recent Black Sparrow (US) and Five Leaves (UK) editions of Reznikoff's Holocaust.  A founder member of Needlewriters writers' cooperative, she lives in Lewes, East Sussex.