Warning
: include(topMenuBar.php): failed to open stream: No such file or directory in
/home/domains/maryevans.com/docs/poetryblog.php
on line
78
Warning
: include(): Failed opening 'topMenuBar.php' for inclusion (include_path='.:/usr/share/php') in
/home/domains/maryevans.com/docs/poetryblog.php
on line
78
Warning
: include(topFullWidth.php): failed to open stream: No such file or directory in
/home/domains/maryevans.com/docs/poetryblog.php
on line
79
Warning
: include(): Failed opening 'topFullWidth.php' for inclusion (include_path='.:/usr/share/php') in
/home/domains/maryevans.com/docs/poetryblog.php
on line
79
Warning
: include(poetrySideBar.php): failed to open stream: No such file or directory in
/home/domains/maryevans.com/docs/poetryblog.php
on line
81
Warning
: include(): Failed opening 'poetrySideBar.php' for inclusion (include_path='.:/usr/share/php') in
/home/domains/maryevans.com/docs/poetryblog.php
on line
81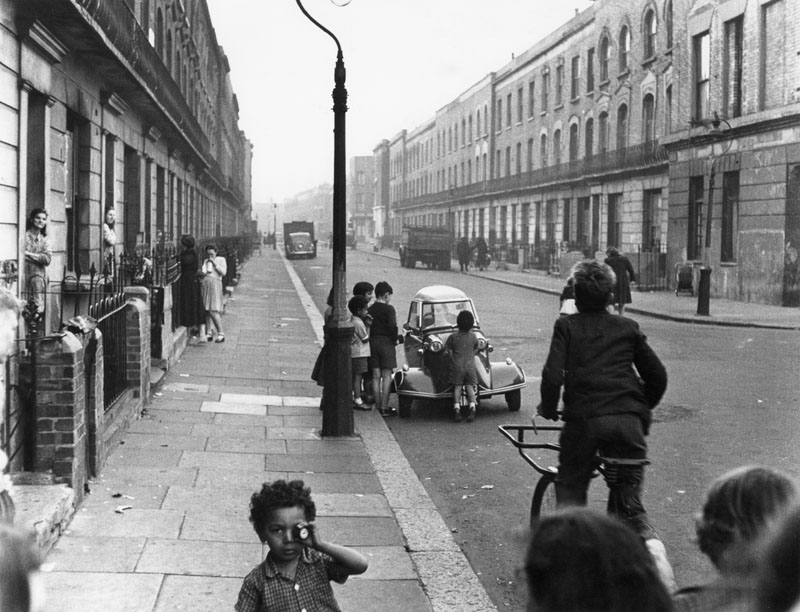 Ten seconds ago
Ten seconds ago this street was their
familiar desert.  Then, suddenly, there
were three objects to stare at.
The bubble car might have fallen
from space.  The kids gather round
its frog's face, its fighter pilot's cockpit
like fish nosing a new wreck.
The boy on the trade bike is as familiar
as the car is strange.  Only when he slows
to a stop do they notice him, unwilling to
bike past the strange machine.
But the women at their front doors look
not at the miracle of the car from the moon
but at something stranger still — a man
with a camera at the end of their street!
Only the child in the foreground stares at him,
holds a toy to his eye, photographs him back.
© Stephen Devereux
Picture 10011540, photograph by Roger Mayne, 1956, image copyright Mary Evans / Roger Mayne Archive
Stephen Devereux writes poetry, plays, essays and short stories. He has had his work published in many magazines, journals and websites in the UK, Ireland, Germany, Austria, Australia and USA. He has won or been shortlisted in many competitions. He was born in rural Suffolk and worked on farms and in factories until going to UEA as a mature student. Since then he has taught in schools, colleges and universities in the North West. He lives in Liverpool.