Warning
: include(topMenuBar.php): failed to open stream: No such file or directory in
/home/domains/maryevans.com/docs/poetryblog.php
on line
78
Warning
: include(): Failed opening 'topMenuBar.php' for inclusion (include_path='.:/usr/share/php') in
/home/domains/maryevans.com/docs/poetryblog.php
on line
78
Warning
: include(topFullWidth.php): failed to open stream: No such file or directory in
/home/domains/maryevans.com/docs/poetryblog.php
on line
79
Warning
: include(): Failed opening 'topFullWidth.php' for inclusion (include_path='.:/usr/share/php') in
/home/domains/maryevans.com/docs/poetryblog.php
on line
79
Warning
: include(poetrySideBar.php): failed to open stream: No such file or directory in
/home/domains/maryevans.com/docs/poetryblog.php
on line
81
Warning
: include(): Failed opening 'poetrySideBar.php' for inclusion (include_path='.:/usr/share/php') in
/home/domains/maryevans.com/docs/poetryblog.php
on line
81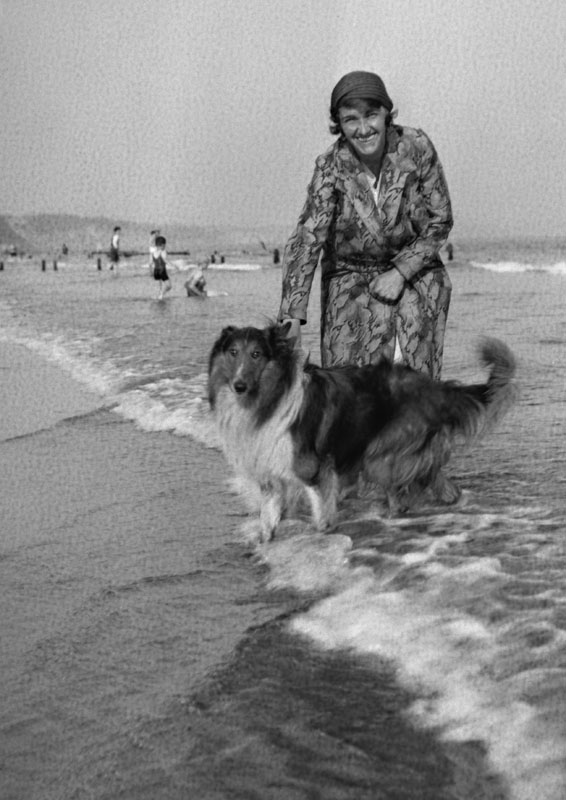 A house-move and a late phone call
I hear your low-voiced recital like today's
stiff wind on the beach, biting into
the tender brows of stoical people
walking dogs. So cold! Dunes and wave-tops sculpted
in hard metal – rococo silver and gold –
the sun springing a trap, minds going blank.
Now, your words numb me into acceptance,
talking 'Chemo', new drugs coming up … Facts
glare back like icy ripples on beach-pools.
Let's change topics: I'll say what here is like,
how eyes are colourless stones, changed by light,
by the moods of the sea. Today, the dog and I
were shaggy giants in the shore's sand-mirror,
then golden light that cut out our silhouettes
in black paper. It's easy, down there, to feel
that time has stopped, to be the timeless owner
of an ageless Collie, stiffening and
shaking showers of stars from his thick rug.
© Dilys Wood
Picture 10579732, photograph, circa 1930s, image copyright Mary Evans / John Maclellan Collection
Dilys Wood founded Second Light Network of Women Poets in 1994. Her collections are Women Come to a Death (Katabasis, 1997) and Antarctica (Greendale Press, 2008).  She has co-edited Second Light's ARTEMISpoetry and the following anthologies of women's poetry: Fanfare (2015), Her Wings of Glass (2014), Images of Women (Arrowhead Press, in association with Second Light, 2006), My Mother Threw Knives (Second Light Publications, 2006), Making Worlds (Headland with Second Light, 2003) and Parents (Enitharmon Press, 2000).  ARTEMISpoetry is a bi-annual poetry magazine in which all poetry, reviews and articles are by women solely concerned with women's poetry.