Warning
: include(topMenuBar.php): failed to open stream: No such file or directory in
/home/domains/maryevans.com/docs/poetryblog.php
on line
78
Warning
: include(): Failed opening 'topMenuBar.php' for inclusion (include_path='.:/usr/share/php') in
/home/domains/maryevans.com/docs/poetryblog.php
on line
78
Warning
: include(topFullWidth.php): failed to open stream: No such file or directory in
/home/domains/maryevans.com/docs/poetryblog.php
on line
79
Warning
: include(): Failed opening 'topFullWidth.php' for inclusion (include_path='.:/usr/share/php') in
/home/domains/maryevans.com/docs/poetryblog.php
on line
79
Warning
: include(poetrySideBar.php): failed to open stream: No such file or directory in
/home/domains/maryevans.com/docs/poetryblog.php
on line
81
Warning
: include(): Failed opening 'poetrySideBar.php' for inclusion (include_path='.:/usr/share/php') in
/home/domains/maryevans.com/docs/poetryblog.php
on line
81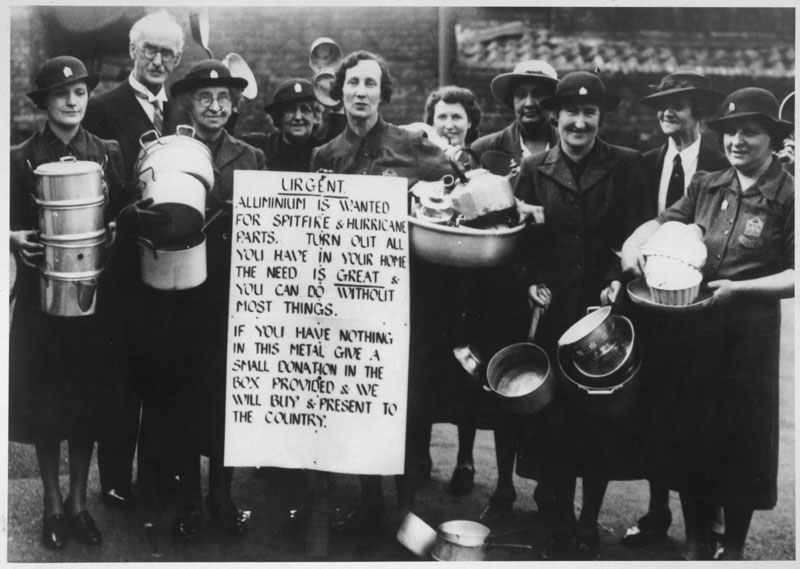 You can do without most things
Declared the women with designs on our spare
aluminium: how many soup pans do you need?
Delve deep in your cupboards, donate to the cause,
learn the art of one-pot meals, placating the men
who still demand their roast and two veg, all scarce
now anyway. Train them to appreciate a simple palate,
one pan less won't hurt. Imagine crushed silver beneath
your feet, the shiver and scrape of metallic plunge –
Spits and Hurricanes flying formation on kitchen fuel.
So bang on your lids, bring out your pots and pans,
shoulder the weight of old familiar buildings fallen
in the night, the silent weeping of those left behind.
© Alison Hill
Picture 10090057, unattributed photograph, July 1940, image copyright Mary Evans / Bruce Castle Museum
Alison Hill's latest collection, Sisters in Spitfires (Indigo Dreams 2015), celebrates the 164 women who flew with the Air Transport Auxiliary during the Second World War, flying anything to anywhere with a particular passion for the Spitfire. The research project was supported by the Arts Council. Previous collections include Peppercorn Rent (Flarestack, 2008) and Slate Rising (Indigo Dreams, 2014). Her work has also appeared in several anthologies, most recently in XXI Century World Literature, published in New Delhi in February 2016. More details at www.alisonhillpoetry.com