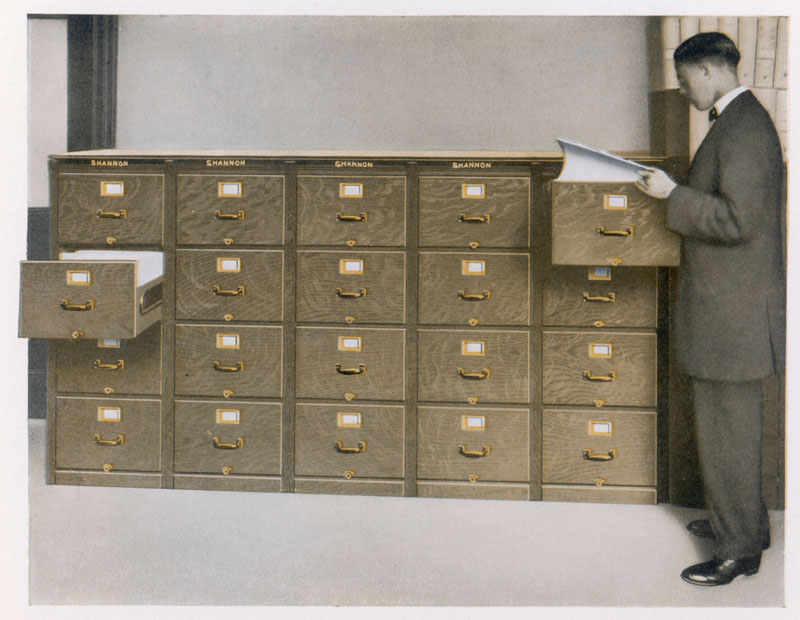 Filing Room
Close one drawer, another opens, a game of noughts
and crosses, thumbing the backs of tabbed dividers,
separating knowledge from known, game from gamut,
first open, then closed with a drum-metal thud—
the labelled exterior, inert on its haunches,
rolling out, at a tug, its long spine of folios.
Open one drawer, another slides shut, or locks
in place for your safety, since pressed beneath
a cabinet is a death reserved for minor clerks
and literary villains, whose twirled moustaches
signify the bookish end of damsels bound to rails
not unlike those now flanking our upright files.
Where will it end—the hoarding of knowledge?—
the low rumble of a drawer reverberates, tiny
earthquake for paper soldiers held at attention
remembering their former lives as broad trees
stretching toward the only data that mattered—
sunlight on green skin—depicted in drawer "C"
for "chloroplast", in faded brown ink, tidy
Victorian hand, now tangled with roots reclaiming
the soil-damp coffin, cross-referenced from "I"
for "irony", where also we find the left-hand curl
of our villain's moustache protruding beneath a safe
filled with the paper money he was after.
Here ends our game of noughts and crosses, won
on a diagonal, which could jam a drawer, wreak
havoc with the parallel lines of any rail, still
the files press together, signifying case closed,
as the broad leaves go on with their jitterbug
from a window overlooking the filing room.
© Robert Peake
Picture 10179484, photograph in a catalogue, 1916, image copyright Mary Evans
Robert Peake is a British-American poet living near London. His full-length collection The Knowledge is available from Nine Arches Press. His previous short collections include The Silence Teacher (Poetry Salzburg, 2013) and Human Shade (Lost Horse Press, 2011). Robert studied poetry at the University of California, Berkeley and in the Master of Fine Arts in Writing Program at Pacific University, Oregon. His poems have appeared in a wide range of journals and anthologies including North American Review, Poetry International, Iota, and Magma Poetry. His own website, www.robertpeake.com, consistently ranks as a top poetry blog. Robert's poems have received commendations in the Rattle Poetry Prize, the Atlantic Monthly Student Writing Contest, the 2007 James Hearst Poetry Prize, the 2009 Indiana Review Poetry Prize, the 2013 Troubadour International Poetry Prize, and three Pushcart Prize nominations. Since relocating to England, Robert has created the Transatlantic Poetry on Air reading series to bring poets from both sides of the Atlantic together for live online poetry readings.