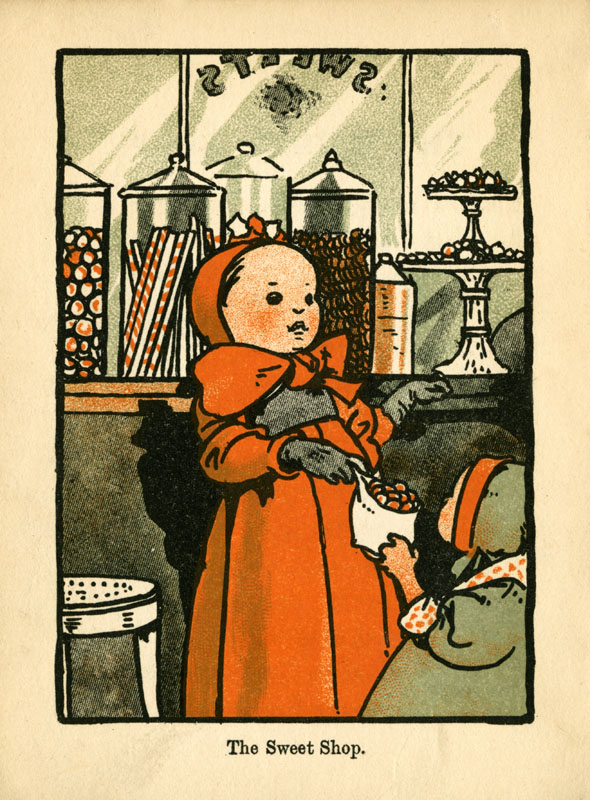 Dolly's Sweet Shop
Her apple face always smiling,
1234567she stands guard
over lines of screw-top jars
1234567as full as her figure.
Icing sugar dusts her eyebrows
1234567and there's a touch
of strawberry red around her lips.
1234567Her twitching nose
plays with the sweetness
1234567of raspberry syrup,
marshmallow puffs, and sugar mice
1234567while humbugs,
gobstoppers and black bullets
1234567tease eyes away
from parma violets and love hearts
1234567competing for space
on the counter…… Oh! the smell –
1234567Aunt Dolly's mixture –
tempting pocket money
1234567from the clutched palms
of children who scuttle off, rustling
1234567brown paper bags –
searching for the eyeballs
1234567she's slipped in – winking.
© Valerie Morton
Picture 10417670, illustration by Charles Robinson, 1902, image copyright Mary Evans / Charles Robinson/Pollinger/Lucinda Gosling
Valerie Morton's work has been published in various magazines and anthologies, and has won or been placed in a number of competitions. She completed an Open University degree in 2011 and has taught Creative Writing at a mental health charity. Her first collection Mango Tree was published by Indigo Dreams Publishing in May 2013. Handprints, her second collection, was published in December 2015 by the same publisher. During 2016 she has been Poet in Residence at the Clinton Baker Pinetum in Hertfordshire running a series of workshops and publishing an anthology. She is a member of Ver Poets.