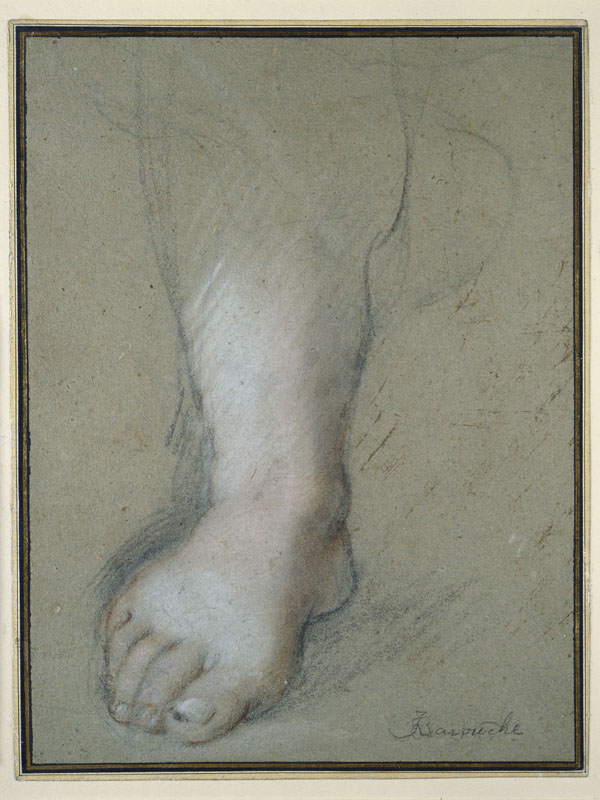 Study of a Foot, Federico Barocci
It was almost like you didn't know it,
as if I'd introduced you for the first time.
You looked down, curious, seeing
the way I have been taught to see.
I'm not surprised you didn't recognise it
as part of you – the colours are at odds
with the rest of your limbs   ̶
a plump blue-veined Doric
marbled with the fine,
pale down of plucked birds,
finished by such a little foot.
Dainty.
No thing you've ever owned
can be described as that.
You lifted your skirt a little higher
and neither of us could see a point
at which your tones blended
to produce those tanned limbs poking out
of your  worsted work-day sleeves.
Your quick, callused hands
are too dry with work to siren
my chalks to speed
but your soft foot is pulpy
with warm blood
and quickens mine.
You are a master at this lesson;
that a little embarrassment
is a slight exchange
to see the unexpected.
© Jo Brandon
Picture 10500564, drawing in chalks by Federico Barocci (c.1526-1612), image copyright Mary Evans / Ashmolean Museum
Jo Brandon was born in Essex in 1986 and raised in rural Lincolnshire. She graduated with a degree in Creative Writing from Bretton Hall, University of Leeds, in 2007. Between 2008 and 2011 Jo was an editor of the literary e-zine Cadaverine, and her poetry has featured in various publications and anthologies including Poetry Review, Magma, Cake and Butcher's Dog. Jo's debut pamphlet, Phobia, was published by Valley Press in 2012. Her first full-length collection, The Learned Goose, followed in November 2015. She can be found online at www.jobrandon.com