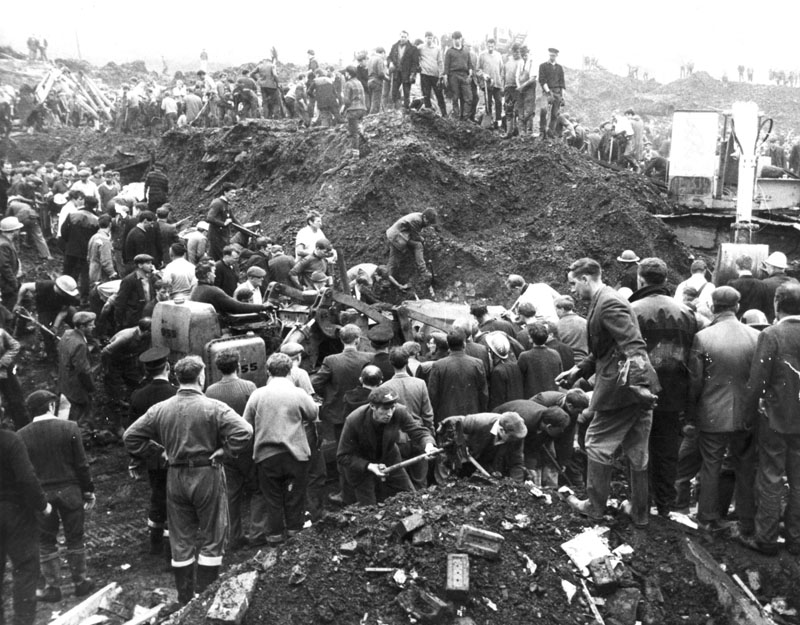 Early One Morning in 1966
Torn bloodied from the belly
of the earth beneath
your tinytoes, I am the precious
gone to the bad.
Longtime have I waited,
glowering malevolent,
a blackhearted mountain
your grandpas built for coppers.
My day is now. Time colliding
with overripe circumstance;
your Coal Board clowns
my hapless henchmen.
Rainfall I have held
like bile has shaped me
into a fist of liquid
black brokenglass.
On your last schoolday
I shall tearup your books,
choke the daylight,
fill your little mouths
and claim the name
of your home forever.
© Harry Gallagher
Picture 10513075, unattributed photograph, October 1966, image copyright Mary Evans / Marx Memorial Library
Harry Gallagher lives and writes on the North East coast. His work has been widely published by, among others: The Stare's Nest, Black Light Engine Room, Lucifer Press, Rebel Poetry, The Fat Damsel, Material, Alliterati, Dead Snakes, Write Minds and Clear Poetry. His third pamphlet, Chasing The Sunset, was launched in January 2016 by Black Light Engine Room Press and he is currently finalising a full collection for 2017. He is co-founder of The Stanza, a monthly poetry night in Newcastle upon Tyne, and also performs regularly throughout the UK. For further information this is his website: www.harrygallagherpoet.wordpress.com