Warning
: include(topMenuBar.php): failed to open stream: No such file or directory in
/home/domains/maryevans.com/docs/poetryblog.php
on line
78
Warning
: include(): Failed opening 'topMenuBar.php' for inclusion (include_path='.:/usr/share/php') in
/home/domains/maryevans.com/docs/poetryblog.php
on line
78
Warning
: include(topFullWidth.php): failed to open stream: No such file or directory in
/home/domains/maryevans.com/docs/poetryblog.php
on line
79
Warning
: include(): Failed opening 'topFullWidth.php' for inclusion (include_path='.:/usr/share/php') in
/home/domains/maryevans.com/docs/poetryblog.php
on line
79
Warning
: include(poetrySideBar.php): failed to open stream: No such file or directory in
/home/domains/maryevans.com/docs/poetryblog.php
on line
81
Warning
: include(): Failed opening 'poetrySideBar.php' for inclusion (include_path='.:/usr/share/php') in
/home/domains/maryevans.com/docs/poetryblog.php
on line
81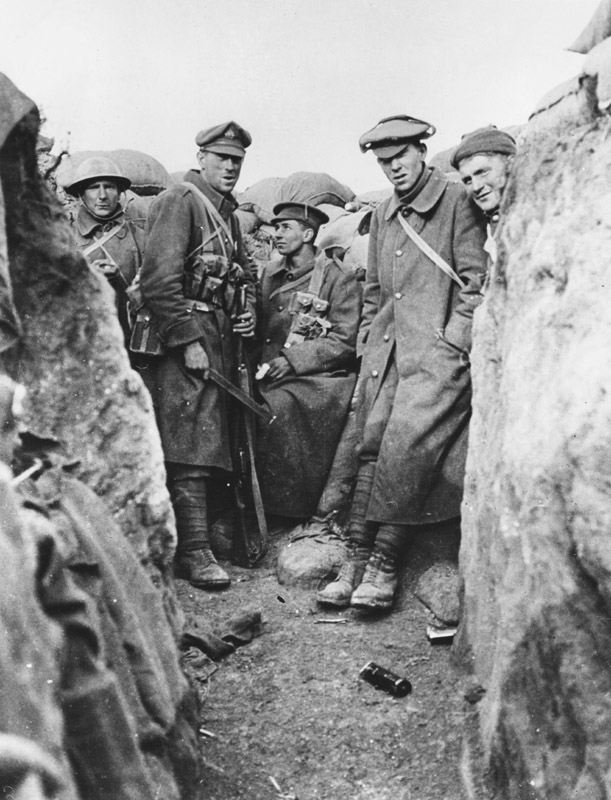 After we're gone
farmers will level this ground,
backfilling shell-holes and trenches.
They'll pick buttons, tin cups,
boot laces, shaving mugs and razors
out of soil that has buried letters,
curses, men and horses.
They'll never know that one of the lads
keeps celandine and meadowsweet
in a whiskey glass by his pallet,
another passes the time at the parapet
naming the flowers in his mother's garden;
foxgloves, lupins, heart's ease, sweet pea.
When I try to forget the smell
of fermenting flesh,
I see neighbours with pitchforks,
rakes and scythes
between hedges scented
by honeysuckle and wild rose.
© Jane Clarke
Picture 10267158, unattributed photograph, October 1915, image copyright Mary Evans / Robert Hunt Collection
Jane Clarke's first collection, The River, was published by Bloodaxe Books in 2015. Originally from a farm in the west of Ireland, Jane now lives with her partner near Glenmalure, Co. Wicklow. One of her poems is shortlisted for the Irish Poem of the Year Award 2016. She won the 2016 Hennessy Literary Award for Poetry and The River was shortlisted for the Royal Society of Literature 2016 Ondaatje Literary Award. She also won the 2014 Listowel Writers' Week Poetry Collection Award, the 2014 Trocaire/Poetry Ireland Competition, Poems for Patience 2013 and the iYeats (2010). Her poems are widely published, including in The Guardian, The Daily Telegraph, The Irish Times, Irish Independent, Poetry Ireland Review, New Hibernia Review, Elementum, Resurgence & Ecologist Magazine, Acumen, Agenda, Abridged, The North, The Rialto, Ambit, One, Poetry Wales, Mslexia, The Compass Magazine, Southword, Cyphers, The Stinging Fly. She has had poems broadcast on RTE Radio 1's Sunday Miscellany, Arena and the Poetry Programme. Jane has a background in group analytic psychotherapy and, as well as writing, she facilitates management development in not-for-profit organisations. www.janeclarkepoetry.ie