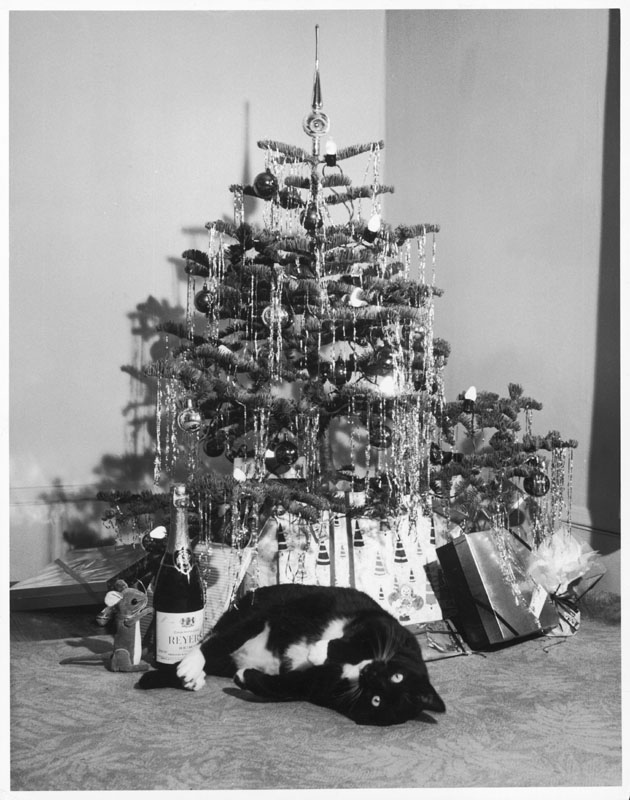 Christmas Mystery (film noir et blanc)
On the carpet, a body:
small, wooden, painted.
Brushed from its branch
by a passing sleeve or hem.
Now there are two,
one near the doormat.
Both – when I think about it –
too far from the tree to be
an accident.
The third time, I catch
the culprit in the act,
poised to strike
from his vantage
on the old, seafaring trunk.
On questioning he implies,
by a nonchalant toss of the head,
it was a different cat
wearing black and white.
© Vivien Freeman
Picture 10141514, photograph by Elizabeth Mark Goodwin, 1960s, image copyright Mary Evans / Goodwin Collection
Vivien Freeman grew up in North London and studied History of Art at the University of East Anglia.  She then settled in Ware, Hertfordshire, with her two children, their father and, for some of that time, two cats.  These were Angus, who was ginger, and his brother, Elmo, who was black and white.  In Ware Vivien studied Creative Writing with the writer and artist, Frances Wilson, a dear friend.  She went on to teach Creative Writing herself for many years and is a published poet and novelist.  She is about to publish a historical novel set in the year 1900.  She is a script reader with a leading agency and is also a grandmother.  She now lives in the Vale of Glamorgan with her husband, the poet John Freeman.