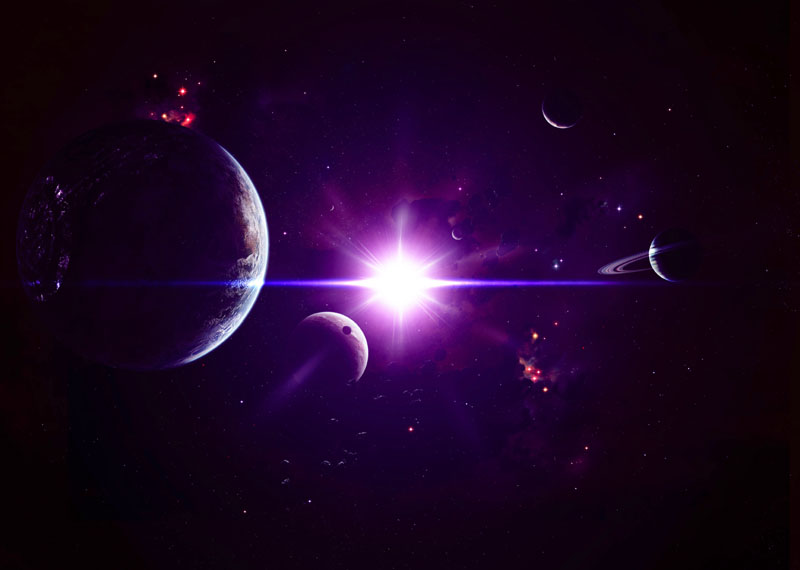 Parallel Universes
On star charts of the distant Hunter's Spiral
it's shown behind a lacewing veil
— or possibly shroud — beside the red one,
ringed one and ice-clad gas-belching giant.
Basic galactic mnemonics: shorthand
to help schoolchildren learn.
It holds a special fascination for us here
in the seventh parallel, sat as we are
equidistant from our own combusting sun.
We wonder. Fictive-science TV shows suggest
some doomed eight-legged arachnids
stalked there, weaving this tatty web of ozone.
We suppose they were intelligent.
They knew this was the stuff to shield
them from a barrage of UV rays. The tragedy
appears to be they were too slow, too cumbersome,
– weighed down, perhaps, by those malformed
and overburdened craniums – to finish it in time.
We speculate at what random juncture
their evolution diverged from ours.
The high-res radiograms beamed back
from a passing probe provide no answers –
just trace the last footprints of their civilisations
washed beneath the planet's trademark blue seas.
© Emma Simon
Picture 11102984, artwork by Kevin Lafin, image copyright Mary Evans / Stocktrek
Emma Simon's debut poetry pamphlet will be published by The Emma Press in March 2017.  She has been widely published in magazines and anthologies, including The Rialto, The Interpreter's House and Bare Fiction. She won the Prole Laureate Competition in 2013, and was third in this year's Manchester Cathedral Poetry Competition.  In 2015 she was selected for the Jerwood/Arvon mentoring scheme.