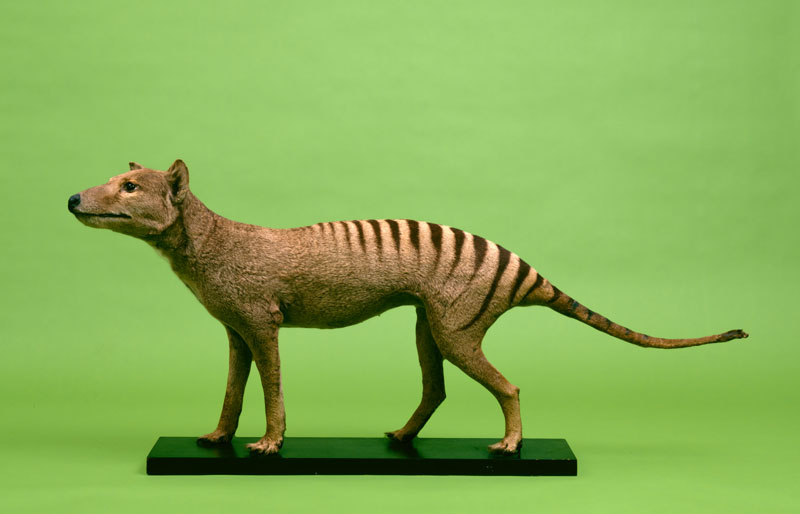 Yarns
We are transfixed. Four soft-sculptured panels of hand-dyed silk
ripple gently as the door closes. Who knew a rest-stop could reveal
this valley in even greater glory, the past as present in the tapestries
as today's specific cloud piles, captured on another roll of film?
They tell their own story – their stories. More than three hundred
women kneeling together on a carpet of grass to weave and cross-
stitch, applique and quilt, discussing technique as they embroider
the silk. Thirty months and no-one's counting or predicting the future.
Colour woven into each season; cherry blossom and wild daffodils
in spring, and faces smiling all along the Meander River, and summer's
heat is reason enough to pause and chat across the farm's fences, unaware
there are devils hiding in the Tiers in autumn, their faces clear of cancer.
In the last, a low winter sun reflects in the clear mountain pools,
illuminates a streak of thylacine sheltering in a long-forgotten cave
– the Tasmanian tiger preserved in silk – their stripes and pouch
stitched carefully into place and not a barrel of a gun in sight. 
© Stephanie Conn
Picture 10703966, photograph, image copyright Mary Evans / Natural History Museum
'Yarns' was a large-scale community art project of quilted, soft sculpture silk panels, one for each season, inspired by the landscapes and lifestyles of the Meander Valley people in Tasmania. It was created by more than 300 community members using numerous hand-working techniques. It is housed in a purpose-built auditorium in Deloraine, Tasmania: http://www.yarnsartworkinsilk.com/
Stephanie Conn was born in Northern Ireland in 1976. She worked as a primary school teacher and developed and taught the literacy programme Passport to Poetry.  In 2013, Stephanie graduated from the Creative Writing MA at the Seamus Heaney Centre, Queens University, Belfast. Stephanie's poetry has been published internationally.  She is a former Poetry Ireland 'Introductions' poet.  Her work has been shortlisted in competitions including the Patrick Kavanagh Award and Red Line Poetry Competition; highly commended in the Doire Press, Fool for Poetry and Mslexia Poetry Pamphlet competitions and the Gregory O'Donoghue Poetry Competition; and placed third in the Dromineer Poetry Competition.  In 2015, Stephanie won the Funeral Services NI Poetry Prize, the Yeovil Poetry Prize and the inaugural Seamus Heaney Award for New Writing.  In 2016, she won the Poetry Business Poetry Pamphlet Competition.  Her debut collection The Woman on the Other Side was published by Doire Press in March 2016. Her pamphlet Copeland's Daughter was published by Smith/Doorstep in June 2016.