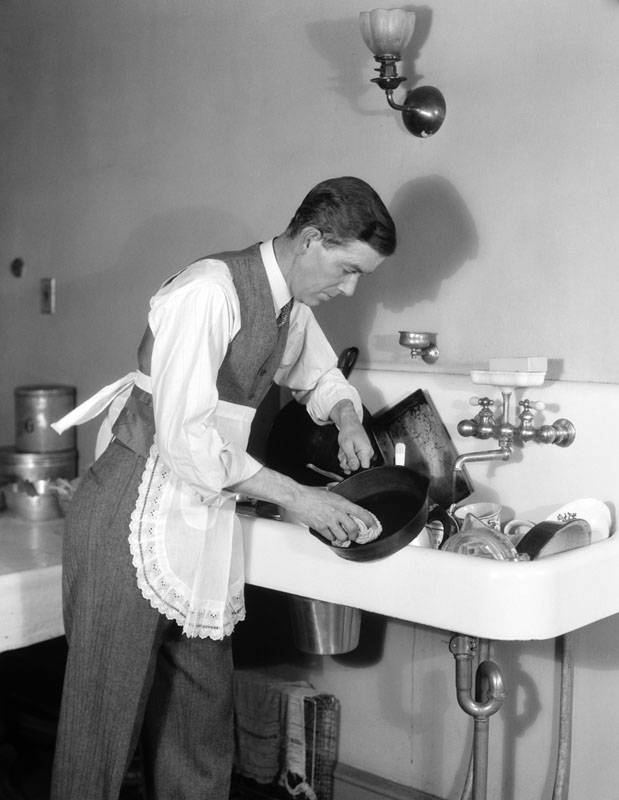 Keeping House
With just a single pair of eyes
to spot how dust accumulates
round vents in plastic TV backs
and stay alert for stains that spoil
the so-called stainless draining board,
it might be quite a month before
he'd notice other odds and ends
slyly getting out of hand.
So then he'd vac beyond the foot place
where he spilled his skimpy meals.
He'd do the stairs and reach the bathroom,
where no one else had squeezed the toothpaste
and scouring scale from under taps,
like plaque around a silver tooth,
he'd have to rinse, and rinse again
to clear the bits and bitter taste.
© Michael Bartholomew-Biggs
Picture 10274565, photograph by H Armstrong Roberts, 1930s, image copyright Mary Evans / Classic Stock
Michael Bartholomew-Biggs is a retired mathematician but still functions as poetry editor for the online magazine London Grip.  He has published several poetry collections, most recently Fred & Blossom, a romance set in the world of aviation in the 1930s (Shoestring Press, 2013) and Pictures from a Postponed Exhibition, a sequence based on paintings by the Australian artist David Walsh (Lapwing, 2014).  For more information see mikeb-b.blogspot.co.uk/