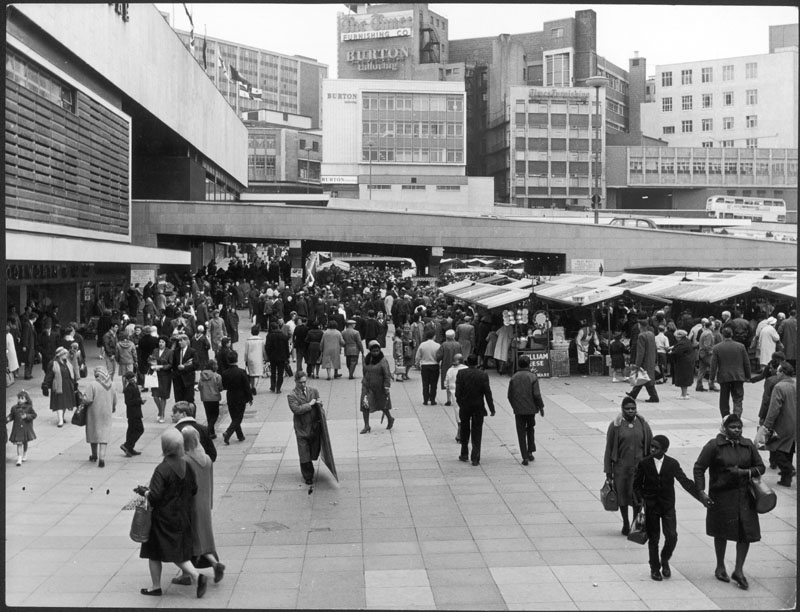 The Bull Ring in the 60s
The skyline's scaffolding-free after two years
and more, shows a state-of-the-art new Bullring
with sculpted black bull who's poised to charge
off the wall, herd motorists to the indoor carpark
where escalators unbuckle their silvery steps,
glide to a hundred shops beneath a single cover.
Not everyone's happy as they view guitars, stereos,
Beatles LPs, search for cotton knickers and socks.
Even the name's changed, a woman tuts, remembers
when the old fish market was bombed, lost its roof
but kept trading. She'd eat cockles at a proper table;
wanders back outside, ponders concrete horizons.
© Sheila Jacob
Picture 10123638, photograph, 1966, image copyright Mary Evans / Mustograph Collection
Sheila Jacob was born and raised in Birmingham, and lives with her husband in North Wales. She has three children and five grandchildren. She resumed writing poetry in 2013 after a long absence and, at 66, considers herself to be an old new poet. She's had poems published in Sarasvati, The Dawntreader, The Cannon's Mouth, Clear Poetry, The Poetry Shed and on The Poetry School Blog.