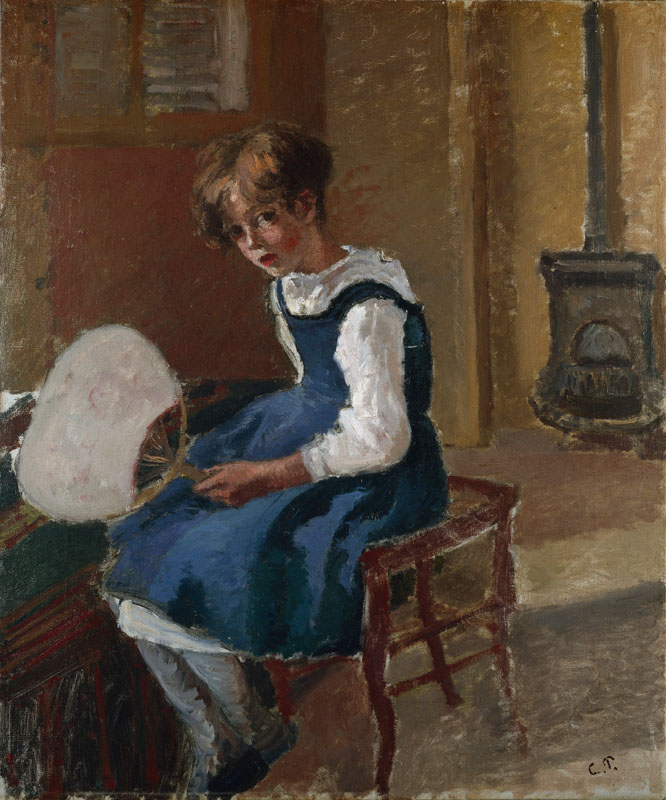 Minette
after Pissarro's  portrait of his daughter, Jeanne-Rachel, known as 'Minette'
She sits, age seven, on the sort of wood chair
beloved of the Impressionists, not yet
ablaze with auction-house liquidity. Two years
from now, she's dead. You can't unknow this.
Your eye is compromised. You can't view
the scene without thinking the pot-bellied
wood-burner in the background is a cloud
gathering on this summer day.
A window, off left, opens on a garden
where if she were well, she could play
in the sunlight. A plaque on the gallery wall
announces the recent future, waiting: TB.
Camille places a fan in her hands, ghostly,
a blank piece of Japonaiserie, 'en vogue',
a void on the canvas. Three-quarters turned,
her stocking-legs under tiny knees and a black
school shift. Shy in her condition, she doesn't
confront – not physically – but see that left eye? Huge
disproportionate, staring out, white pigment
advancing, in accusation, admonition, hurt?
Her father/painter, life-giving and powerless
to protect her. Does he paint with the cool-eyed
stare of art, or the essential agony of family?
The vulnerability he brings to this picture, made
from a desire to perfect, take her suffering, fix
forever an image to canvas. We are all in this,
implicated, an Ashmolean throng, witness
to a beauty so slight and tender, the wooden legs
of the chair will buckle under an impossible weight
any minute, the claw-feet of the wood-burner,
grey, bear down on her, flames warm, consuming.
© Ken Evans
Picture 10500937, oil on canvas, Camille Pissarro, 1873, image copyright Mary Evans / Ashmolean Museum
Ken Evans' first pamphlet, The Opposite of Defeat, was published by Eyewear in July 2016. Eyewear included him in their annual Best Irish and English New Poets 2017, due out in April (an anthology is for those who have yet to publish a full collection).  In 2016 he won The Battered Moons Poetry Competition (Judge: Daljit Nagra), and was runner-up in Manchester's Poets & Players (Judge: Jackie Kay).  His poems have appeared in The Lighthouse Literary Journal; Envoi; The Interpreter's House; Morphrog9; The High Window; Obsessed with Pipework; The Glasgow Review of Books; The Morning Star, and Ink, Sweat & Tears. He reviews poetry for The Manchester Review.