Warning
: include(topMenuBar.php): failed to open stream: No such file or directory in
/home/domains/maryevans.com/docs/poetryblog.php
on line
78
Warning
: include(): Failed opening 'topMenuBar.php' for inclusion (include_path='.:/usr/share/php') in
/home/domains/maryevans.com/docs/poetryblog.php
on line
78
Warning
: include(topFullWidth.php): failed to open stream: No such file or directory in
/home/domains/maryevans.com/docs/poetryblog.php
on line
79
Warning
: include(): Failed opening 'topFullWidth.php' for inclusion (include_path='.:/usr/share/php') in
/home/domains/maryevans.com/docs/poetryblog.php
on line
79
Warning
: include(poetrySideBar.php): failed to open stream: No such file or directory in
/home/domains/maryevans.com/docs/poetryblog.php
on line
81
Warning
: include(): Failed opening 'poetrySideBar.php' for inclusion (include_path='.:/usr/share/php') in
/home/domains/maryevans.com/docs/poetryblog.php
on line
81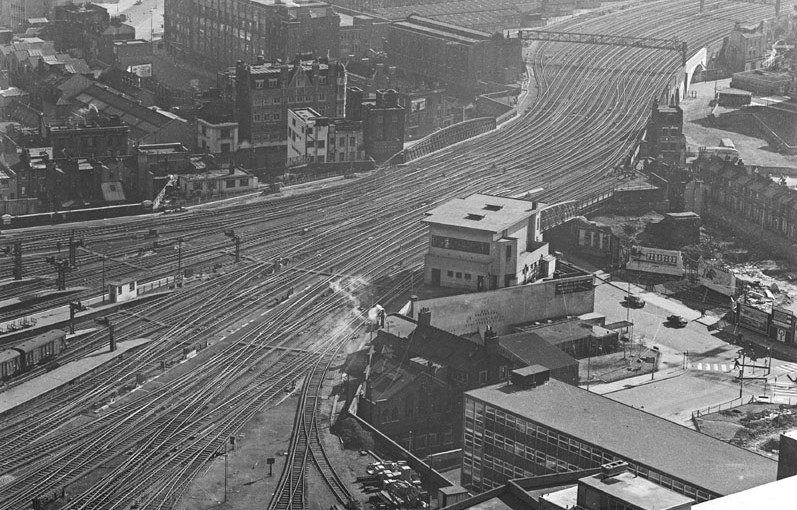 London Bridge to Waterloo East
Ratcheted backwards along familiar lines
something is dead and we're the mourners –
a squeeze of tracks tight between windows
thirty bottle panes across, a Pearce Duff's sign,
shadow lines of a custard tin. Here we are
cheek to cheek with chimneys, eyelevel
with feral pigeons arranged like heraldry
in their smoke-blackened niches. Crane lower –
under a mash of adverts left to peeling, through
iron bars set in yellow brick, liquid escapes
down grilled steps, sensing the river. This fine
bent gristle thing nudges us into the old stories.
Our wheels sharpen on a drawn-out mass
of points and then we're stationary, our heaving
carriage balanced over Union Street arches,
hearts beating up out of sleeping bags below
where once packers and platers lit their fags,
off to the Rose & Crown, after the factory closed.
© Robin Houghton
Picture 10407011, photograph by John Gay, circa 1960s, image copyright Mary Evans / Historic England Collection
Robin Houghton is published in many poetry magazines including Agenda, Bare Fiction, Envoi, Poetry News, Prole and The Rialto, and in numerous anthologies. She won the Poetry Society's Hamish Canham Prize in 2013 and the 2014 Stanza competition, and was runner-up in the Plough Poetry Prize 2014. She has work forthcoming in The Best New British and Irish Poets 2017 (Eyewear Publishing). Her pamphlet The Great Vowel Shift  was published by Telltale Press in 2014. Robin has a background in commercial writing and online marketing and has written three commissioned books on blogging. Her own blog is at robinhoughtonpoetry.co.uk.