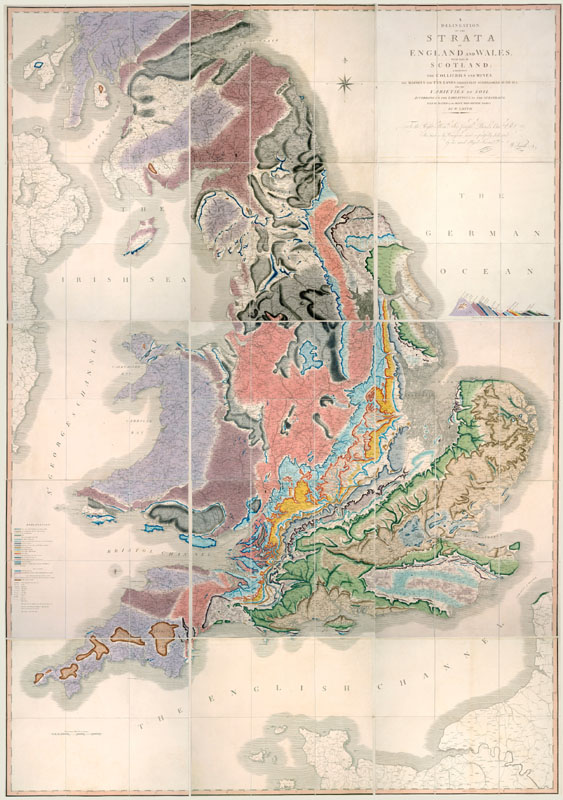 Strata Smith
We don't know what they ate or drank. Three men
in a private room on a June evening,
the glass and china cleared from the table.
One man spoke, a second wrote, having ruled
a horizontal and four verticals
on a very large sheet of paper. The one
dictating went through, in order, with names
some of which he had improvised himself,
the twenty-three layers of various stuff,
including chalk, sand, clay, and fuller's earth,
always in the same sequence underground.
Each man took a copy before they parted.
Nobody had ever seen this before.
There had been no understanding of what lay,
lies, beneath their feet and ours. Not even Smith
understood how old everything was, how long
it was since the lower levels were laid down.
Nothing but plant fossils below one divide,
nothing but animal fossils above it –
this he knew, and emphasised that evening
to Benjamin Richardson and Joseph Townsend.
Three men in 1799, in a room,
when the days were getting longer and longer,
that time of year when it seems light will go on
filling the whole world more and more brightly.
© John Freeman
Picture 10711270, map by William Smith, 1815, image copyright Mary Evans / Natural History Museum
John Freeman's poems have been widely published in magazines and anthologies, and in several collections, of which the most recent are What Possessed Me (Worple Press) and Strata Smith and the Anthropocene (The Knives Forks and Spoons Press), both  September 2016. Earlier collections include White Wings: New and Selected Prose Poems (Contraband Books) and The Light Is Of Love, I Think: New and Selected Poems (Stride Editions).  John was born in Essex and grew up in South London before living in Yorkshire and finally settling in Wales where he taught for many years at Cardiff University and now lives in the Vale of Glamorgan.  There is an online interview here: http://sentinelquarterly.com/2016/05/john-freeman-interviewed-by-mandy-pannett/   See also http://www.johnfreemanpoetry.co.uk/#