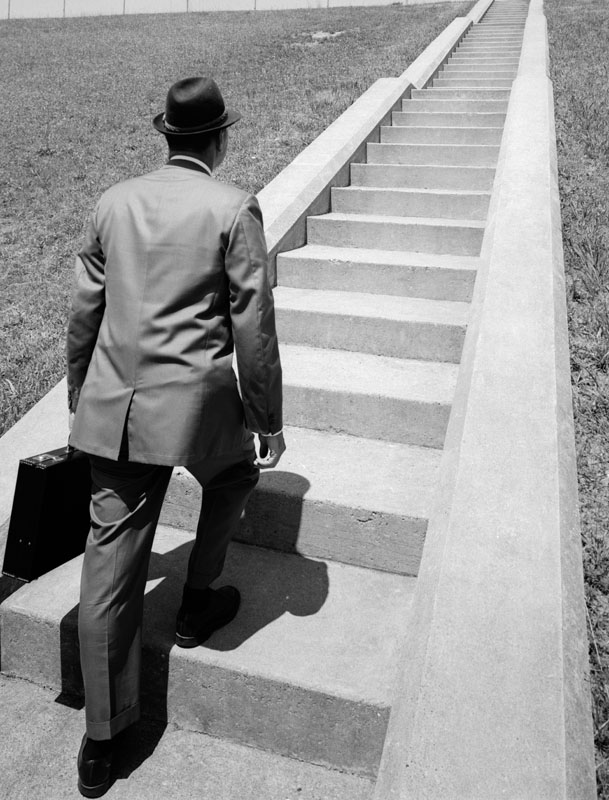 Success
The unfurled tongue of his ambition
tripped him up at every turn.
It didn't match his shirt or socks
just like a tie would,
and he couldn't ever seem to learn
to keep it tucked away
inside his pinstripes of performance,
safe from colleagues' narked and sharpened eyes.
The luring ladder of advancement always
blew caution off in favour of the prize.
So the steaming heap of peer resentment
grew warmer daily, fuelled the fire.
Oblivious to all around him,
he sailed on past his self-made pyre
(next to the copier, fax and cooler,
around the corner from Accounts).
Cubicle innuendo stoked it hourly,
in neatly measured,
flammable amounts.
Blinkered, he failed to spot the obvious:
no one liked him,
no one cared,
no one offered him a coffee,
holiday toffees never shared.
Promotion all that mattered to him,
the praise of corridors above his head
made him stone to those around him –
all his staff who wished him dead.
© Di Slaney
Picture 10701827, photograph by H Armstrong Roberts, circa 1960s, image copyright Mary Evans / Classic Stock
Di Slaney lives on a Nottinghamshire smallholding with more animals than is sensible. She has a degree in English and European Literature from the University of Warwick, an MA in Creative Writing from Nottingham Trent University and was co-owner of Candlestick Press from 2010, taking sole ownership of the press in June 2016. She founded marketing agency Diversity in Nottingham in 1999. Her poems have been anthologised and published in various magazines including Magma, The Rialto, The Interpreter's House, Brittle Star, LeftLion and Lighten Up Online, as well as being shortlisted for the Plough Prize and the Bridport Prize. Two of her poems won joint first prize in the 2014 Brittle Star Poetry Competition and she won the Four Corners International Poetry Competition in 2015. Di's debut pamphlet collection Dad's Slideshow is available from Stonewood Press and her first full collection Reward for Winter is published by Valley Press.