Warning
: include(topMenuBar.php): failed to open stream: No such file or directory in
/home/domains/maryevans.com/docs/poetryblog.php
on line
78
Warning
: include(): Failed opening 'topMenuBar.php' for inclusion (include_path='.:/usr/share/php') in
/home/domains/maryevans.com/docs/poetryblog.php
on line
78
Warning
: include(topFullWidth.php): failed to open stream: No such file or directory in
/home/domains/maryevans.com/docs/poetryblog.php
on line
79
Warning
: include(): Failed opening 'topFullWidth.php' for inclusion (include_path='.:/usr/share/php') in
/home/domains/maryevans.com/docs/poetryblog.php
on line
79
Warning
: include(poetrySideBar.php): failed to open stream: No such file or directory in
/home/domains/maryevans.com/docs/poetryblog.php
on line
81
Warning
: include(): Failed opening 'poetrySideBar.php' for inclusion (include_path='.:/usr/share/php') in
/home/domains/maryevans.com/docs/poetryblog.php
on line
81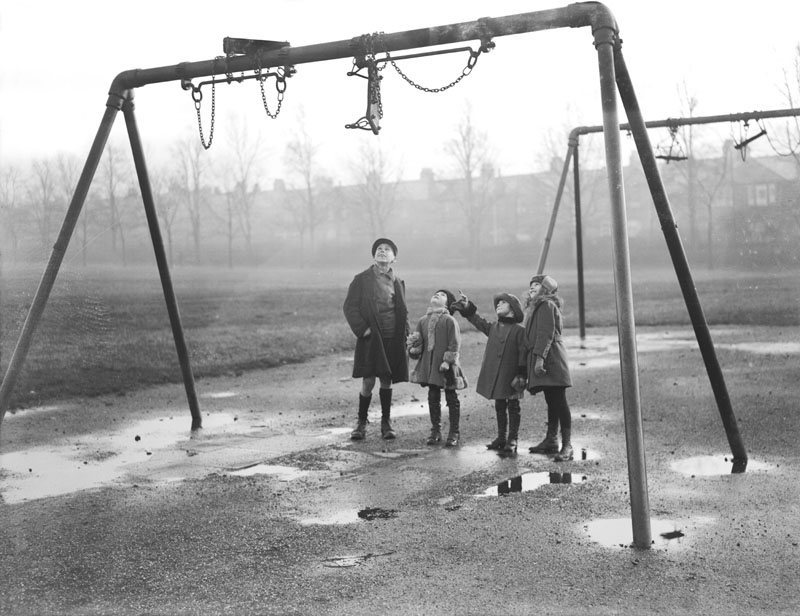 Akin to déjà vu
There we were, the four of us at the park
one Saturday in February, puddles everywhere
and our beloved swings out of reach,
hitched on high by some killjoy park-keeper
or perhaps a gang of older boys, bullies.
All we could do was stand around, stare up
wondering how to untangle the chains.
Today I'm here alone, outside the gates
on a hot Thursday in June, swallows darting,
the former joys of family reunions snatched
away, replaced by the need to keep alive
memories of kindred now beyond my grasp.
All I can do is stare at empty seats, dangling,
try to preserve bonds that still entangle us.
© Sharon Larkin
Picture 10166522, unattributed photograph, early 1930s, image copyright Mary Evans / Barnaby's Picture Library
Sharon Larkin has been published in anthologies (including Cinnamon Press, Eyewear Publishing, Indigo Dreams Publications), in magazines (eg Prole, Obsessed with Pipework, Here Comes Everyone, Reach) and online (including Ink, Sweat and Tears, Clear Poetry, The Stare's Nest).  She has been listed in a number of competitions and regularly performs her work in Cheltenham and further afield. Sharon is Chair of Cheltenham Arts Council and a former Chair of Cheltenham Poetry Society (2011–2015). She has an MA in Creative and Critical Writing and a passion for Welsh language, literature and history. Website: https://sharonlarkinjones.com