Warning
: include(topMenuBar.php): failed to open stream: No such file or directory in
/home/domains/maryevans.com/docs/poetryblog.php
on line
78
Warning
: include(): Failed opening 'topMenuBar.php' for inclusion (include_path='.:/usr/share/php') in
/home/domains/maryevans.com/docs/poetryblog.php
on line
78
Warning
: include(topFullWidth.php): failed to open stream: No such file or directory in
/home/domains/maryevans.com/docs/poetryblog.php
on line
79
Warning
: include(): Failed opening 'topFullWidth.php' for inclusion (include_path='.:/usr/share/php') in
/home/domains/maryevans.com/docs/poetryblog.php
on line
79
Warning
: include(poetrySideBar.php): failed to open stream: No such file or directory in
/home/domains/maryevans.com/docs/poetryblog.php
on line
81
Warning
: include(): Failed opening 'poetrySideBar.php' for inclusion (include_path='.:/usr/share/php') in
/home/domains/maryevans.com/docs/poetryblog.php
on line
81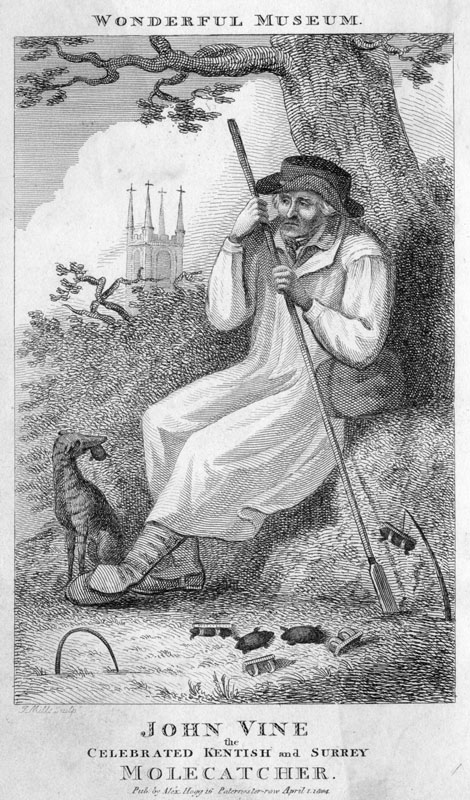 Mole Catcher
One of the random victims of Derrick Bird, the Whitehaven taxi-driver who killed twelve people before shooting himself, was described in the media as a 'part-time mole catcher'.
Slinking home across dark, furrowed acres,
in corduroy jacket and – why not? – moleskin trousers,
the sun just dropping, a sack over his shoulder
of poor blind creatures in bloodstained bundles.
That is how we imagined a mole catcher,
accounting him different from ourselves:
grime and spittle on his lip, spying on lovers,
sending his lurcher to flush them out of the bracken.
It takes the shooting to demythologise him;
he is one out of a dozen, with names, ages,
families, all reported. We share in their surprise
as the news hits us like a bullet. It doesn't matter
whether he caught moles or sold double glazing –
the headline's still the same. Man kills, man dies.
© Derek Sellen
Picture 10010067, engraving by Mills in Caulfield's Wonderful Museum, 1804, image copyright Mary Evans
Derek Sellen's work has been published widely and received awards over many years. He won the Five Words Poetry Competition in 2015 and Hungry Hill Poets Meet Politics in 2014. Other recent successes include first prize in the Wirral Festival Drama Competition and being shortlisted in various 2015/2016 poetry competitions. He has written on a wide range of subjects including Spanish painters, Korean musicians and Indian cave paintings. He lives in Canterbury, Kent, and is an active member of SaveAs Writers.