Warning
: include(topMenuBar.php): failed to open stream: No such file or directory in
/home/domains/maryevans.com/docs/poetryblog.php
on line
78
Warning
: include(): Failed opening 'topMenuBar.php' for inclusion (include_path='.:/usr/share/php') in
/home/domains/maryevans.com/docs/poetryblog.php
on line
78
Warning
: include(topFullWidth.php): failed to open stream: No such file or directory in
/home/domains/maryevans.com/docs/poetryblog.php
on line
79
Warning
: include(): Failed opening 'topFullWidth.php' for inclusion (include_path='.:/usr/share/php') in
/home/domains/maryevans.com/docs/poetryblog.php
on line
79
Warning
: include(poetrySideBar.php): failed to open stream: No such file or directory in
/home/domains/maryevans.com/docs/poetryblog.php
on line
81
Warning
: include(): Failed opening 'poetrySideBar.php' for inclusion (include_path='.:/usr/share/php') in
/home/domains/maryevans.com/docs/poetryblog.php
on line
81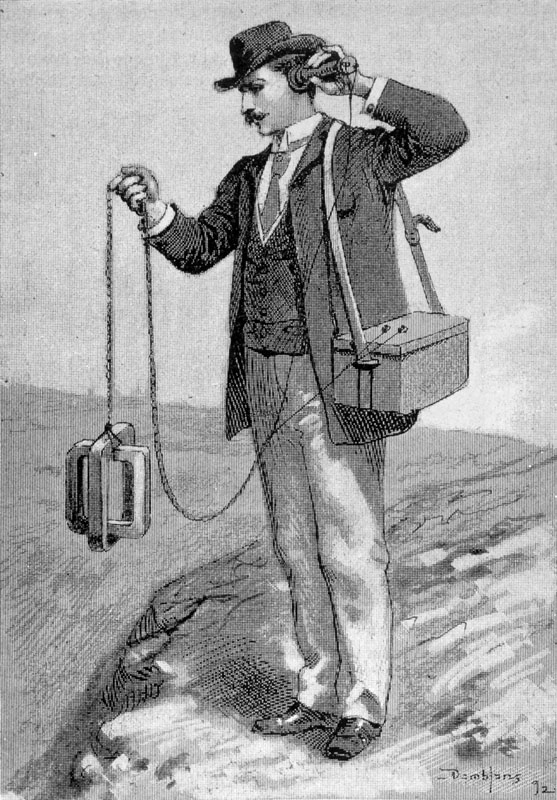 The Electrical Gold Finder Discovers Radio 3
What can I hear?  I'm listening carefully.
Nothing at present.  I'll take a step.
No, instead I shall lengthen the line
ensuring the Detector is kept very still.
My Receptor is sensitive, which is essential
since gold only sings in the softest of voices,
its ore lies demure … stop, what was that,
the song of the sought for, its magical music?
Come here and dig – no, wait for a moment,
your spade will destroy what I am enjoying –
even more precious than potential gold.
Leave us alone – I'll go on listening
carefully keeping the length very still.
© Richard Westcott
Picture 10090310, engraving in La Science Illustrée, 1892, image copyright Mary Evans
After hanging up his stethoscope a few years back, Richard Westcott now listens to himself talking, rather than others. Presently working on a sequence exploring Suicide, he seems to be better at getting a commendation here and there than being published, but keeps trying. And stays alive.