Warning
: include(topMenuBar.php): failed to open stream: No such file or directory in
/home/domains/maryevans.com/docs/poetryblog.php
on line
78
Warning
: include(): Failed opening 'topMenuBar.php' for inclusion (include_path='.:/usr/share/php') in
/home/domains/maryevans.com/docs/poetryblog.php
on line
78
Warning
: include(topFullWidth.php): failed to open stream: No such file or directory in
/home/domains/maryevans.com/docs/poetryblog.php
on line
79
Warning
: include(): Failed opening 'topFullWidth.php' for inclusion (include_path='.:/usr/share/php') in
/home/domains/maryevans.com/docs/poetryblog.php
on line
79
Warning
: include(poetrySideBar.php): failed to open stream: No such file or directory in
/home/domains/maryevans.com/docs/poetryblog.php
on line
81
Warning
: include(): Failed opening 'poetrySideBar.php' for inclusion (include_path='.:/usr/share/php') in
/home/domains/maryevans.com/docs/poetryblog.php
on line
81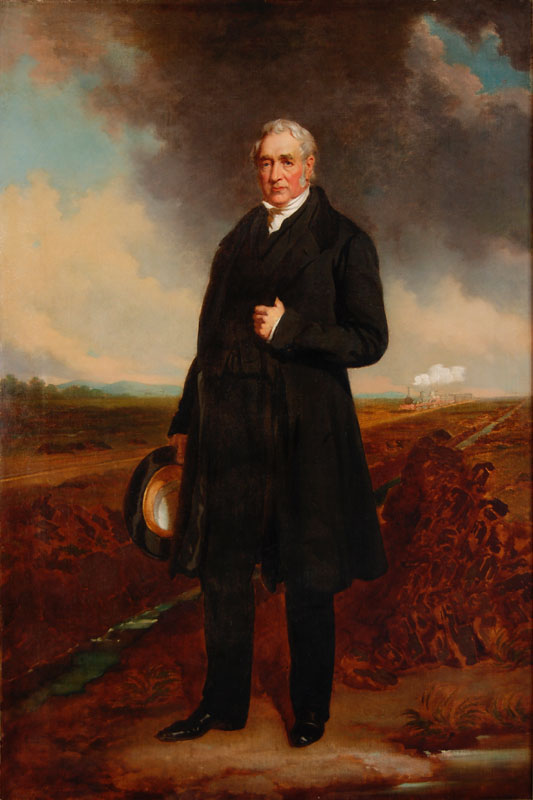 George Stephenson
You raced to night school at eighteen.
Black marks danced into words. Between
shifts, short sleeps, you fixed clocks, planned
your miners' lamp. Town scientists thought
you stole its brilliance, once they caught
the quick lilt of Northumberland.
Then your steam engine roared your rail.
Loud 'Locomotion' did not fail
though each horse bolted to the hills
from snorting trains, on your mapped lines.
You angled bridges, deepened mines,
gained the grand house, quit barren hills.
You loom through oil paints, graven, old.
Your best black coat beats steel's cold.
Your second wife was your first choice.
Betty's father scorned a miner,
your son strolled best schools. Engineer,
he hailed MPs with their own voice.
The painter set your mirrored shoes
beside the half-built tracks, oil's ooze.
Clouds, black as smoke, choke chinks of blue.
We crave hot rooms, the singing rail.
To make streams clean, these dark skies pale,
is our work. I do not blame you.
You gave dead workers' families
coals, bread, safe roofs. Your luxuries?
Through tunnels you had made in glass
you steered, like love, prize cucumbers.
Past the Duke's lawn, slow gardeners,
you raced green trains. You won each class.
© Alison Brackenbury
Picture 10510744, portrait by John Seymour Lucas, c1840s (painted as the first President of the Institution of Mechanical Engineers), image copyright Mary Evans / Institute of Mechanical Engineers
Alison Brackenbury was born in Lincolnshire in 1953, and comes from a long line of skilled farm workers. She now lives in Gloucestershire and has published nine collections of poems. Her work has won an Eric Gregory Award and a Cholmondeley Award. She reviews poetry for leading journals, including P N Review and Poetry London. Her work has appeared many times on BBC Radio, including three recent features on the Radio 4 arts programme, Front Row. Her latest collection, Skies, was published by Carcanet in 2016, has been featured in The Guardian, The Independent, The Poetry Book Society Bulletin, and on Radio 4's Front Row, and was chosen by The Observer as one of its Poetry Books of the Year. Alison's website can be found at www.alisonbrackenbury.co.uk