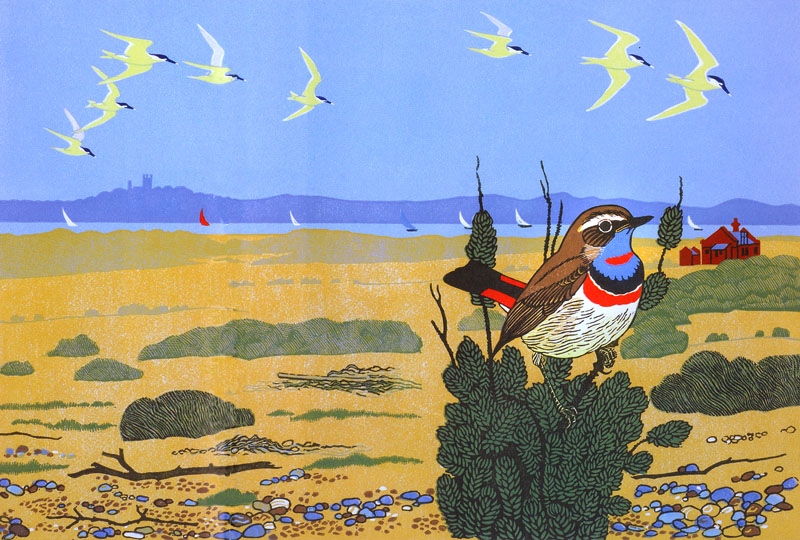 North Norfolk
This time there's a sea change.
The cottage where we used to stay is sold.
In this one, floors pitch like waves,
walls are uneven, a door hides twisting stairs.
Up through a bedroom, a ladder leads to the attic –
a lofty crossbeam. Could be medieval.
The sea is raw blue silk.
By its margin, sand feels sprung, jewelled with shells.
Here, it's ridged and rippled.  By the dunes,
shale turns to hot yellow flour.
Sloughing off old skins, holiday makers
are pink as baby seals on Blakeney Point.
Tonight, the surface of the water burns
like the flaming orange ball whose flavour bathes
the Carnser, turns to silver banks of mud
on which, daily, small boys wallow,
slime oozing between bare toes.
It's an on-going process –
the tinka-tinka-tink of wind in rigging –
the sense of always, of essentials,
constant as the clash of reeds at Cley,
as the loop of self returning…
…returning to a salt-sea meal outside.
Lamps bloom, air is smooth.
Samphire dipped in melted butter is smooth.
Skating teeth lock on to inner strings,
setting free a strong, distinctive savour.
© Vivien Freeman
Picture 11357067, illustration by Robert Gillmor, 2005, image copyright Mary Evans / Robert Gillmor Collection
Vivien Freeman grew up in North London and studied History of Art at the University of East Anglia.  She then settled in Ware, Hertfordshire, with her two children and their father.  In Ware Vivien studied Creative Writing with the writer and artist, Frances Wilson, a dear friend.  She went on to teach Creative Writing herself for many years and is a published poet and novelist.  She is about to publish a historical novel set in the year 1900, and her work recently appeared in a poetry anthology, The Tree Line (Worple Press, 2017), in support of The Woodland Trust.  She is a script reader with a leading agency and is also a grandmother.  She now lives in the Vale of Glamorgan with her husband, the poet John Freeman.