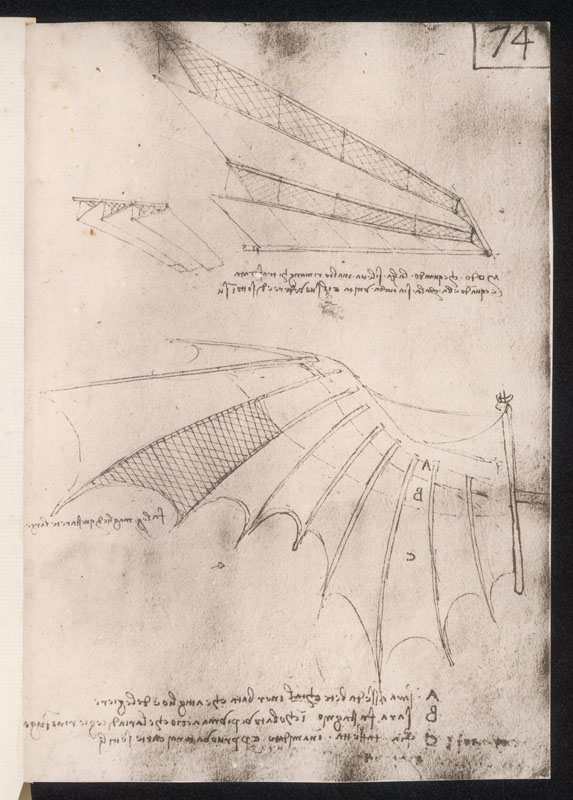 The Landscape of Flight
for Susan Rogers
Once you have tasted flight you will walk the earth with your eyes turned skywards, for there you have been and there you will long to return.
~ Leonardo da Vinci
1.  Bone
They say a hawk landed in your cradle
and swept its tail feathers past your mouth,
awakening a taste for flight,
your need to pull the buzzard apart
with slender fingers looking for secrets
in articulated wings. Here
in the late hours, the scent of wax burns
your nostrils as you pry the codex,
cracking the contours, drawing
the downy tufts in two. You note
the breast bone shaped like a keel,
lay out each pearled shaft
until it reclaims its shape. Candles come
and go like sylphs, casting shadows
on the freshly inked sketches. When you finally
walk the corridor to your room,
feathers fall to the tiled floors, lodge
in your velvet robes and pillows.
Sleep arrives
12345678slender as a wing bone. You dream you are
a black crane flying low across the Arno,
1234567891234567891234the moon a plume nearly gone.
2.  Earth
I've been trying for so long
to leave you, but gravity
pulls me back.
Maybe my wings
are too solid,
my breath heavy as salt,
bones too dense for the folds
of space where nothing
answers my call.
3.  Flower
Look at these dogwood blossoms
caught in the act of flying,
white wings bent and touching
in a flock of origami.
They could be cranes adrift
in the impermanence of dying.
© Lois P. Jones, previously published in The Poet's Quest for God (Eyewear Publishing, 2016)
Picture 10044152, sketch by Leonardo da Vinci, circa 1500, image copyright Mary Evans
Lois P. Jones has work published or forthcoming in Tinderbox Poetry Journal as well as several anthologies including The Poet's Quest for God (Eyewear Publishing), Wide Awake: Poetry of Los Angeles and Beyond (The Pacific Coast Poetry Series) edited by Suzanne Lummis, 30 Days (Tupelo Press), and Good-Bye Mexico (Texas Review Press). Some publications include Narrative, American Poetry Journal, One, (Jacar Press), Tupelo Quarterly, The Warwick Review, Tiferet, Cider Press Review, Askew, and other journals in the United States and abroad. Lois's poems have won honours under judges Kwame Dawes, Fiona Sampson, Ruth Ellen Kocher and others. The New Yorker staff writer Dana Goodyear selected "Ouija" as Poem of the Year for 2010 in the competition sponsored by Web del Sol. Lois is the winner of the 2012 Tiferet Poetry Prize and the 2012 Liakoura Prize, and a seven-time Pushcart nominee. Her poem "Foal" received the 2016 Bristol Poetry Prize and her work was recently shortlisted for the Bridport Prize in poetry. Lois is poetry editor at Kyoto Journal, host of KPFK's Poets Café (Pacifica Radio), and co-host of Moonday Poetry in La Cañada, California. Her first collection of poems, Night Ladder, is forthcoming from Glass Lyre Press.