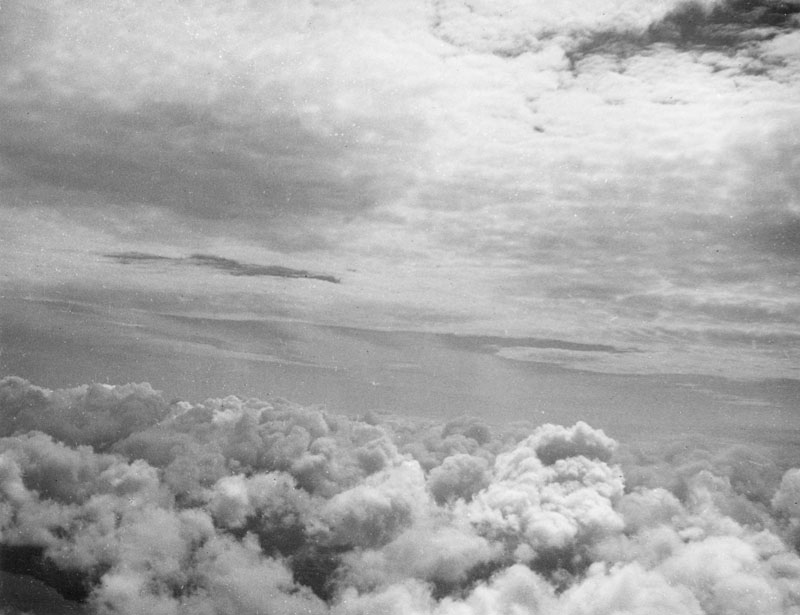 Flight
If love was like clouds and I leapt
from the plane, could I fall into you?
Could you bear me softly like faith,
muss my shadow with woolly devotion,
fold me into your core, where I could not feel
the rush of grave air?
Would you blind me, temporarily, please?
Let me glean this when I unbuckle, head for the exit:
your turning mass like milk in the belly
your lack of certainty, the way your edges furl –
Or let me make my own cloud
here on the pane – let me hush you into an oval window
wipe a line through my breath with a finger
as if proving I have agency over love, and water and air.
© Sarah Westcott, first published in Ten Poems About Clouds (Candlestick Press, 2017)
Picture 10172182, photograph, circa 1930s, image copyright Mary Evans / Mustograph Collection
Sarah Westcott's first poetry collection Slant Light was published by Pavilion Poetry in 2016. A poem from the book was Highly Commended in the 2017 Forward Prizes. Her debut pamphlet Inklings was a winner of the Venture Poetry Award and the Poetry Book Society's Pamphlet Choice for Winter 2013. Sarah's poems have appeared in magazines including Poetry Review, Magma and Butcher's Dog, on beermats, billboards and the sides of buses, and in anthologies including Best British Poetry 2014. She was a poet-in-residence at the Bethnal Green Nature Reserve in London in 2015, and Manchester Cathedral poet of the year 2016. Sarah grew up on the edge of Exmoor, lives on the London/Kent borders with her family and works as a journalist.