Warning
: include(topMenuBar.php): failed to open stream: No such file or directory in
/home/domains/maryevans.com/docs/poetryblog.php
on line
78
Warning
: include(): Failed opening 'topMenuBar.php' for inclusion (include_path='.:/usr/share/php') in
/home/domains/maryevans.com/docs/poetryblog.php
on line
78
Warning
: include(topFullWidth.php): failed to open stream: No such file or directory in
/home/domains/maryevans.com/docs/poetryblog.php
on line
79
Warning
: include(): Failed opening 'topFullWidth.php' for inclusion (include_path='.:/usr/share/php') in
/home/domains/maryevans.com/docs/poetryblog.php
on line
79
Warning
: include(poetrySideBar.php): failed to open stream: No such file or directory in
/home/domains/maryevans.com/docs/poetryblog.php
on line
81
Warning
: include(): Failed opening 'poetrySideBar.php' for inclusion (include_path='.:/usr/share/php') in
/home/domains/maryevans.com/docs/poetryblog.php
on line
81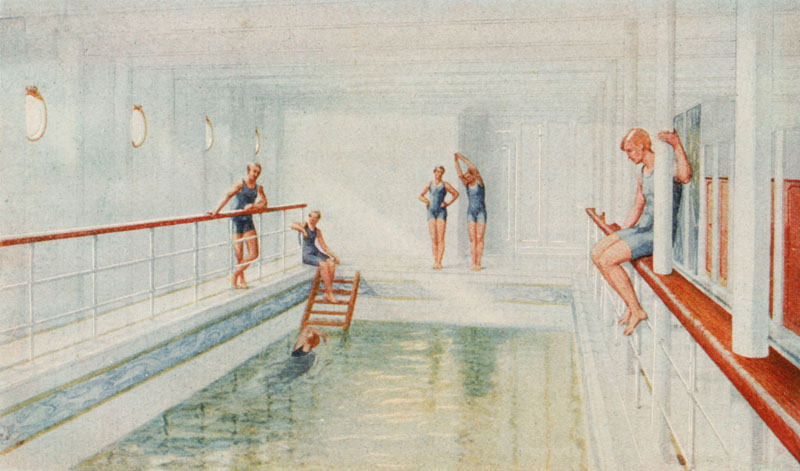 Ladies' Hour
It's good for the bust
just a gentle stretch or two
then small steps in
it's warmer than you think
it's deeper than you think
I love the blue fear of this –
down, down – watching my leg
disappear, and the other,
in up to my waist, my neck –
that's it –
between me and the sea
just a smell of steerage,
the low belly of boat, the swell.
It's good for the bust.
I will do this. Reach forward,
take a breath. I believe
I will float, I will glide,
just a push with my foot,
my little foot, and let go.
© Robin Houghton
Picture 10213847, illustration in White Star Line brochure, 1912, image copyright Mary Evans / Onslow Auctions
Robin Houghton is published in many poetry magazines including Agenda, Bare Fiction, Envoi, Poetry News, Prole and The Rialto, and in numerous anthologies including The Best New British and Irish Poets 2017 (Eyewear).  She won the Poetry Society's Hamish Canham Prize in 2013 and the 2014 Stanza competition, and was runner-up in the Plough Poetry Prize 2014.  She is a member of Telltale Press, the poets' publishing collective she co-founded.  Her first pamphlet The Great Vowel Shift was published by Telltale in 2014 and a second, All the Relevant Gods, is forthcoming from Cinnamon Press in early 2018.  Her own blog is at robinhoughtonpoetry.co.uk.