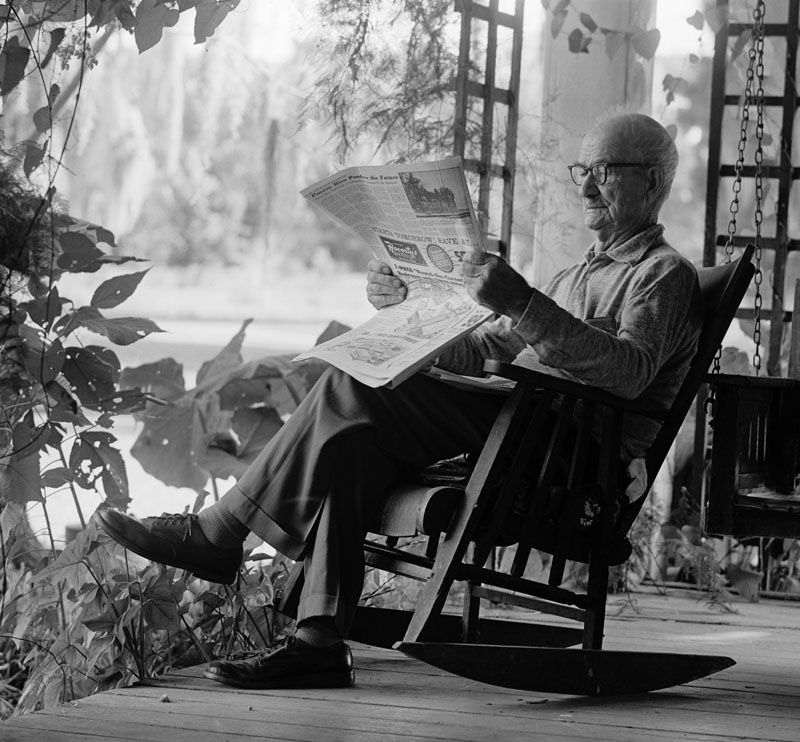 Reading the papers
Late May.  Most of the garden is promises.
A mower moans in the distance.  Here
a first yellow rose stretches and yawns.
Geraniums in pots on the steps are forbidden to move
like children in assemblies quietly wetting themselves.
It dries.  Sun slowly paces his stage:
flowers and leaves crane to follow.  Iceland poppies
shed petals like tissues, and their seed-pods turn into tracers.
(Gravel and paving and rubble
being equally hospitable, their aim is ruthless
self-seeding.)  Clouds dawdle like onlookers.
A breeze nips in and causes a little commotion.
Leaves twitch like ears – a garden never completely
relaxes.  Though no-one is here except me in a chair,
doing nothing, slowly history happens.
© Peter Wallis
Picture 10278026, photograph  by H Armstrong Roberts, 1970s, image copyright Mary Evans / Classic Stock
Peter Wallis is three times winner of the Thetford Open Poetry Competition, winner of the Barnet Competition and of the Living With Dementia poetry competition. He won publication of a pamphlet, Articles of Twinship, in the Bare Fiction Debut Poetry Collection Competition 2015 and was shortlisted in the National Poetry Competition 2016. He has had poems published in New Zealand and Germany, and has been widely published in UK journals.  He is a former Eastern Arts Association Visiting Writer and a Primary School Poet in Residence. He is currently Submissions Editor for the UK charity Poems in the Waiting Room.