Warning
: include(topMenuBar.php): failed to open stream: No such file or directory in
/home/domains/maryevans.com/docs/poetryblog.php
on line
78
Warning
: include(): Failed opening 'topMenuBar.php' for inclusion (include_path='.:/usr/share/php') in
/home/domains/maryevans.com/docs/poetryblog.php
on line
78
Warning
: include(topFullWidth.php): failed to open stream: No such file or directory in
/home/domains/maryevans.com/docs/poetryblog.php
on line
79
Warning
: include(): Failed opening 'topFullWidth.php' for inclusion (include_path='.:/usr/share/php') in
/home/domains/maryevans.com/docs/poetryblog.php
on line
79
Warning
: include(poetrySideBar.php): failed to open stream: No such file or directory in
/home/domains/maryevans.com/docs/poetryblog.php
on line
81
Warning
: include(): Failed opening 'poetrySideBar.php' for inclusion (include_path='.:/usr/share/php') in
/home/domains/maryevans.com/docs/poetryblog.php
on line
81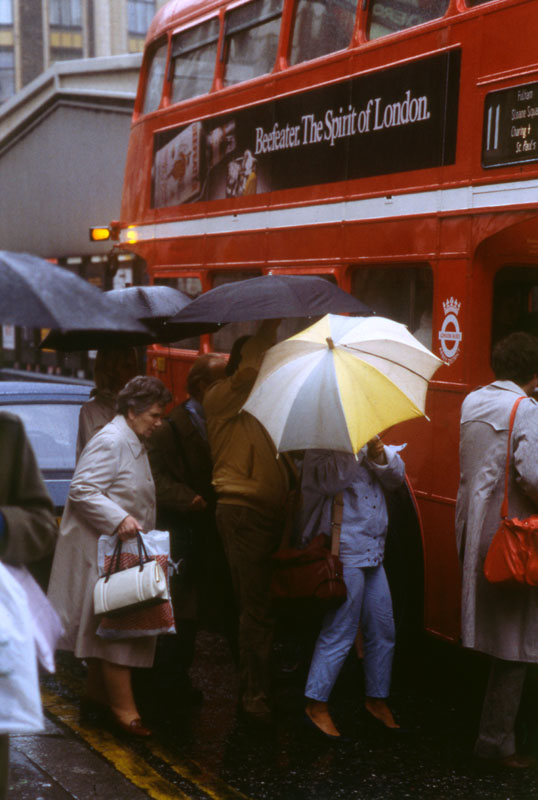 Breakdown
In London town a stranded bus
looks awkward, sheepish, as if it's woken up
in a Piccadilly Circus nightmare.
The driver frowns,
then, as if oblivious to fuss pins a note
to the cab door that it's his bus
and if anyone wants him he can be found
in the cafeteria pretending an unconcern
he doesn't feel and uploading hot-dogs
to his Instagram. Anywhere is better
than here stuck waiting for an engineer,
the Dales are lovely at this time of year.
A red sea of commuters parts around
the fallen icon, umbrellas abound, wielded
in grim determination to board.
Even a bus going nowhere is better than no bus.
Inside on one of the seats is found
a set of prayer beads
123456789123456789in a brown paper bag.
© Frances Spurrier
Picture 10556433, photograph by John Benton-Harris, 1960s, image copyright Mary Evans / John Benton-Harris Collection
Frances Spurrier's work has been widely published and anthologised, most recently in The Poet's Quest for God (Eyewear, 2016). Publication credits for reviews, interviews and poetry include New English Review, Wales Arts Review, The Interpreter's House, Tears in the Fence, Staple, South and Write out Loud. Her first poetry collection, The Pilgrim's Trail, won the Cinnamon Press Collection Award and was published by them in 2014. She is currently working on a second collection. Her interests lie in the area of the connections between language, spirit and the environment. Frances blogs at https://volatilerune.blog